With the temperatures heating up, it's time to make sure we all keep hydrated and the Bandana Bowl by Pawabunda is one clever new invention to help out your dog!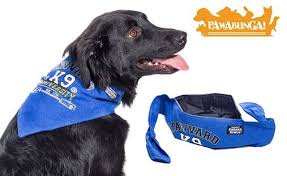 Imagine you're out on a walk with your dog and it's hot out. You've probably got a bottle of water for yourself, but it's a bit cumbersome to share it with your dog.
The Bandana Bowl is a scarf (aka bandana) and bowl in one. Your dog can wear this scarf/bandana and when it's time for a drink, take it off and it turns into a bowl. The bowl is water proof! We've tested this ourselves and also saw it demoed at the Global Pet expo. It really doesn't leak.
If you think your dog is really hot, you can also pour water on the bandana and put it back on around his neck to keep your dog cool.

We love it because it's easy, very light weight and it's one less thing you have to carry because your dog is now carrying his own bowl.
They come in both blue and pink and in 3 sizes (S,M,L). Here's our link to purchase on Amazon if you're interested in getting one for the summer.

ALSO READ