When it comes to fashion, we all know that one size does not fit all. The same is true for our four-legged friends. Dog couture, or high-end dog fashion, is available for every size and breed of dog, from teacup Chihuahuas to giant Great Danes. But is it worth the cost?
With a focus on comfort, quality, and style, you can find a wide range of dog couture options to suit your dog's size and personality.
Is dog couture worth the cost?
Dog couture can be an expensive investment, but many dog owners find that the benefits outweigh the cost. Not only does high-end dog fashion give your pup a unique and fashionable look, but it also provides a level of comfort and durability that you may not get from cheaper alternatives. Additionally, designer dog clothing and accessories often use materials that are safe and comfortable for your dog, making them a more practical and health-conscious choice. Ultimately, the decision to invest in dog couture is a personal one, but for many proud pet owners, it's a worthwhile indulgence to pamper and style their beloved furry friends.
Dog couture options
For small breed dogs, there are plenty of options that cater to their unique needs. From chic and cozy sweaters to stylish harnesses, small dogs can now look and feel their best on their daily walks. They can also rock fancy collars and accessories that add a touch of personality and bling to their outfits. With small dogs being popular city pets, there are plenty of options available for urban fashionistas to showcase their style. Plus, many dog couture designers have scaled their designs specifically for small dogs, ensuring a comfortable and snug fit that looks great and doesn't restrict their movement.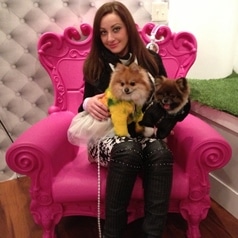 At the New York Pet Fashion Show, we were introduced to Orostani Couture, founded by Olga Yuditsky. Orostani Couture has some very unique designs from rock and jeans to glamor dresses. As with all couture design, these pieces are handmade. With so many items for pets mass produced overseas, we were quite intrigued by a dog couture designer based in the U.S. and wanted to learn more about Olga and her company Orostani Couture.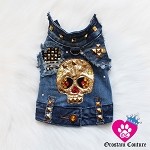 Born in Kiev, Ukraine, Olga moved to Chicago when she was six years old. Her grandfather was a master at the art of tailoring and worked as an atelier. His talent was passed down to Olga's father who also became a master of tailoring with impeccable sewing skills.
As you can imagine, the passion for fashion and atelier skills were passed down to Olga. She had the strong desire to develop her craft and moved to New York to study at the Fashion Institute of Technology (FIT). She spent her final year abroad at Polimoda in Florence, Italy and in her graduate fashion show, she won Best in Show and her designs were chosen to be worn in the Miss Italia Competition. She also interned with Givenchy.
Back in New York, Olga spent a few years designing costumes and couture clothes for singers, dancers and other artists. It wasn't until she adopted her two adorable Pomeranian puppies, that she realized she wanted to design for the doggie couture world.
We interviewed Olga to learn more about her collections:
Tell us what inspires your designs?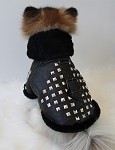 I love to wear feminine pieces and coordinate them with funky accessories and hard elements. My style is very unique, daring and fun. I am very versatile which is why you will find a wide variety of designs ranging from rock to frilly pet couture that is not only practical, but fashionable too. As I conquer new experiences in life, I experiment with different elements to provide innovative pet fashion.
Every garment is made with extreme detail, paying great attention to workmanship to assure perfect styling and comfort. I only use the best quality fabrics. All designs are handmade to order with lots of love and care. They are guaranteed to not only turn tails, but heads too. Orostani Couture was created for fashionistas and their furry best friends who want to make a bold statement.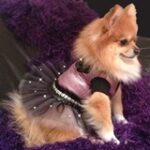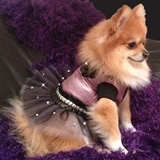 Do you change styles based on trends from the human runways?
I'm inspired by the latest trends in music, fashion, art, theater, movies, travels, street style and the fashion collections of couture runways. I adopt trends, and transform them into cool couture for haute doggies.
Do you custom measure your designs to fit each dog?
Custom sizing plays a big part in my business. My customers can contact me with exact measurements of their dogs for a perfect fit or may choose a size from my size chart. If a dog is not of standard size, I can accommodate custom measurements.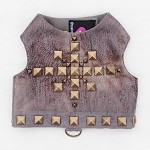 Do you make clothing for only small dogs or also larger breeds?
All Orostani Couture designs are handmade to order ranging from sizes XXS-XL. I have made designs for a micro teacup 1 lb Yorkie to a Siberian Husky, PitBull, Wheaten Terrier.
The streets of New York can get pretty dirty. Can you wash your clothing designs?
Extraordinary garments demand extraordinary care. As with all couture, my garments are handmade using the only finest fabrics and trims. I recommend dry cleaning to preserve the quality. You can trust a quality cleaner with all your couture garments.