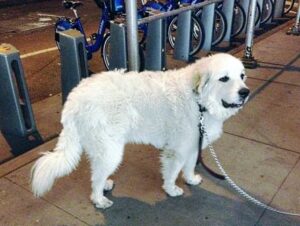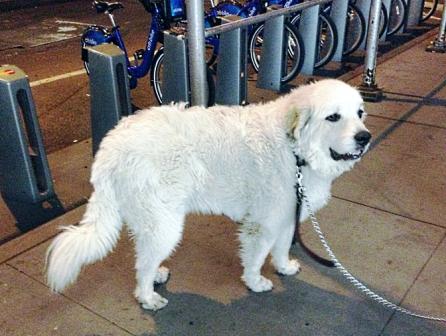 I was taking my dog, Kobi, out for a walk the other evening in Manhattan (Financial District) and you can imagine how surprising it was to bump into a Great Pyrenees.
Malesh, the Great Pyrenees, is a very gentle and friendly dog that's only 2 1/2 years old. You'd never guess that as Malesh is so young as he's about 145 pounds.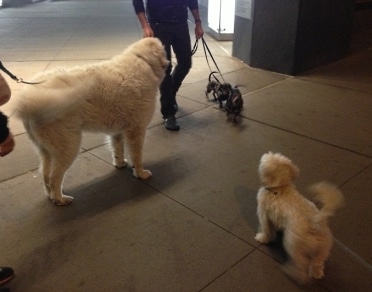 To get a sense of how large he is, you can see Malesh in comparison to some dachshunds and Kobi, who is about 18 pounds and in the foreground. I asked Malesh's mom if he got his own room or studio apartment, but she said he was really easy going and didn't need that much space. Malesh was really pleasant around the other dogs and humans.
Here are some interesting facts about the Great Pyrenees from Dog Breed Info Center : "The Great Pyrenees originated in Central Asia or Siberia. The Pyrenees is a relative of the St. Bernard.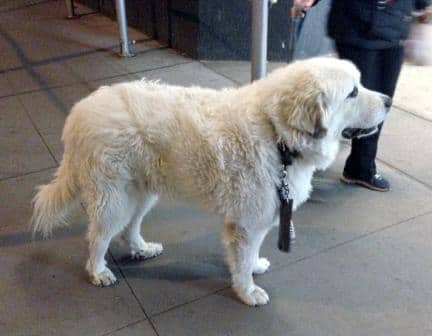 It has a long history as a guard dog of sheep. The dogs made their way to Europe; the Great Pyrenees remained in the high mountain regions until the Middle ages, when the breed gradually gained popularity with the French nobility as a guard dog. By the late 17th century, every French noble wanted to own one. Armed with a spiky collar and thick coat, the Great Pyrenees protected vulnerable flocks from such predators as wolves and bear. The Great Pyrenees has proven to be a very versatile breed working as an avalanche rescue dog, as a cart-puller, sled dog, as a pack dog on ski trips, a flock guardian, dog of war, and as a companion and defender of family and property. The AKC officially recognized the Great Pyrenees in 1933."