Did you know that most dog experts and trained professionals recommend using a no pull dog harness over the use of a dog leash? But what are the best no pull dog harnesses?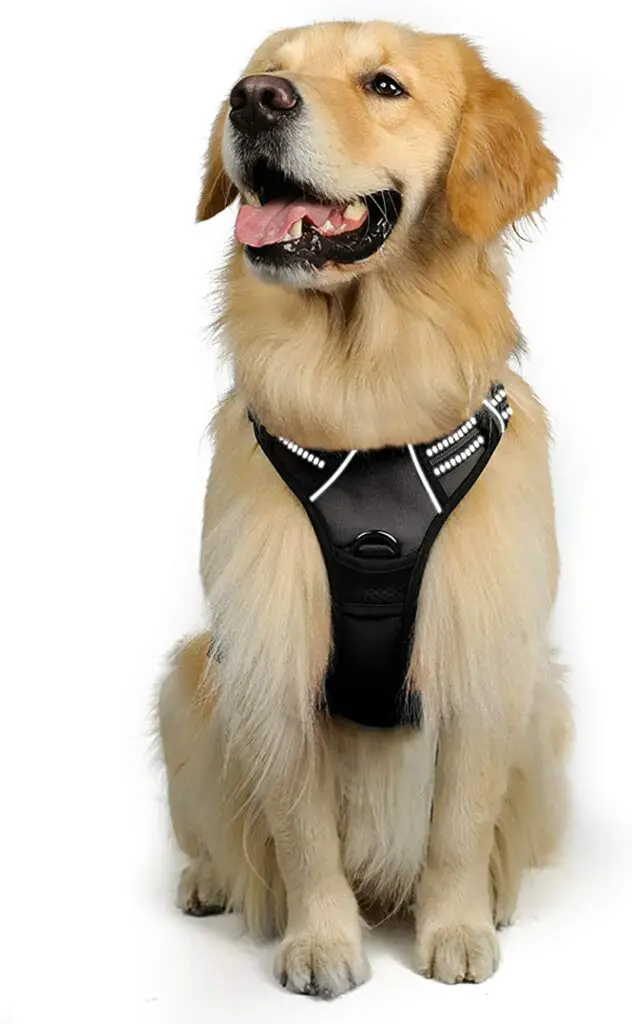 Why No Pull Dog Harnesses Are Preferred?
The reason for that is because the best no pull dog harness generally provide you with better control of your pets without applying an unhealthy amount of pressure on their necks.
In extreme cases, this pressure can even lead to serious health conditions if you aren't careful.
And if this has convinced you that you need to invest in one yourself, then good! They are absolutely worth it, and in all honesty, your pooch deserves it. The only tricky part is figuring out what dog harness is the best choice for them.
In this respect, a quality no-pull harness is definitely the way to go. When it comes to picking the right brand, in our opinion, the best choice would have to be the Rabbitgoo No-Pull Pet Harness.
Rabbitgoo No-Pull Dog Harness
Best dog harness no-pull options for dogs of all sizes!
All products are linked for ease of purchase.
Rabbitgoo No-Pull Dog Harness
The Rabbitgoo harness is a trendy choice for many pet parents out there. It is rated 4.5-stars by over 50,000 happy pet parents on Amazon.
So, let's break down what makes this harness so unique:
Adjustable Fitting
It features four adjustable straps – two on the chest, two on the neck – which helps you find the perfect size fit for your pooch. This also makes it very practical for long-term use because you easily adjust the fitting as your pup gets older and bigger.
Versatile Design
This dog harness also comes with a two-ring design that provides a fantastic amount of versatility. It is both a front-clip and back-clip dog harness, which means that there is a leash attachment on your pet's chest and back.
The front-clip is best recommended if your dog still has a bad habit of tugging on its leash while walking. If your canine begins to tug on your leash, you can simply pull it back, making them turn around to face you. This essentially corrects them and makes them adjust their pace without any excessive pulling and choking necessary.
Alternatively, you can start to use the back-clip once you are confident that your pooch is well-trained enough to always maintain a loose leash.
Ease of Use
One of the main reasons that a pet parent may be discouraged from using a dog harness is that it may be overly complicated to fit their dogs. The good news is that this no pull dog harness offers up the perfect solution to this problem.
It comes in a relatively simple overhead design and fast-release buckles that let you fit the harness on and off your pup pretty quickly. This allows you to slide your pet's harness, snap the fasteners in place, and adjust them for a perfect fit, even on small dogs.
It also comes with a convenient top handle that provides you with more control should your dog suddenly start to act out because of a stray cat, for example.
Comfort & Safety
The Rabbitgoo No-Pull Dog Harness comes with a breathable mesh panel that ensures your pet stays cool, even as they run around in the hot weather.
This harness also has bright reflective strips, which should help them be more visible at night.
Final Round Up of the Best No Pull Dog Harnesses
Most dog experts recommend using a no pull dog harnesses, which provides better control without applying unhealthy pressure on their necks, over using a dog leash.
In extreme cases, leash pressure can lead to serious health conditions for dogs. If you're convinced and looking for the best one for your pup, a quality no-pull harness like the Rabbitgoo No-Pull Pet Harness is a great choice.
Your furry friend deserves the best; this harness provides comfort and control during walks.
ALSO READ: