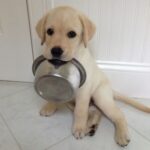 We were very glad to see that the FDA is proposing a new rule under FSMA to improve the safety of pet food, as well as, help prevent food-borne illness in humans and animals. There's been a lot of news recently about dangerous food (e.g. dog treats produced in China) and it's about time the FDA start improving the standards.
Essentially the rule is requesting that that both domestic and international pet food manufacturers put in more preventive controls to reduce the risk of hazards from occurring and improve the safety of pet food. They will also need to follow new current good manufacturing practices (CGMPs). This is a step forward to improving pet food by focusing on prevention rather than just reacting to problems after they happen.
How To Make Homemade Pig Ear Dog Tr...