The beloved Bulldog, some might be a little nervous around them, but this cute, stocky breed puts a smile on our face! We asked one of our Dogsized fans, Tracy, to tell us about her Bulldogs: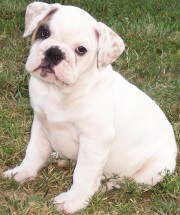 How did your Bulldogs come to join your family?
I have always been drawn to bulldogs! Many years ago, I went on a job with my husband and the customers had two bulldogs. While I should have been helping with the job, those Bulldogs were so cute that I ended up playing with them instead. The customers told me their daughter had a bulldog and she needed to find a home for her because they recently had a child and no time left for the dog. I immediately took her up on the offer!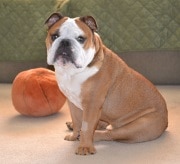 Chloe was an amazing Bulldog! Unfortunately, just a few years after getting her, we found out she had very advanced congestive heart failure. When Chloe passed away in August 2008, I was completely devastated. A couple weeks later, my husband showed up with a Bulldog puppy – Zoe. I told him I didn't want another dog…it was too much too soon. He said he couldn't stand seeing me crying constantly (about Chloe) and a puppy would make me put my thoughts and efforts into raising this little life. Once I held Zoe, there was no turning back.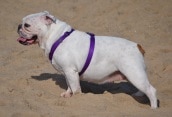 Zoe was completely different from Chloe – she was a handful. A month or so later, I came across an older Bulldog in a rescue shelter. I know how hard it is to place an older dog, so I took Zoe to meet her and that added Della to the household. Della was a wonderful old girl and was a big help in teaching Zoe the ways of the world. Della passed away a couple years ago. Last June the rescue called me and said they had another girl that would fit perfectly with Zoe. So we all met Lola and she fit right in.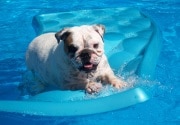 What do your Bulldogs love to do?
Zoe loves to swim. Most bulldogs are not good swimmers due to their unique shape, but Zoe will go until you take her out of the pool. She is completely obsessed with the pool. If she sees someone out there she will scream and carry on until she gets to go in the pool too. She also loves to ride in the car. If you don't let her sit in the front seat, she will cry and bark the entire ride. When she doesn't get her way the "bull" part of Bulldog comes out full force.
Lola loves toys. She almost always has a toy in her mouth – even when she is sleeping. She also loves to go on car rides, but she is perfectly content wherever you put her. They both sleep in bed with us and Zoe is usually a quiet sleeper, but Lola snores like a freight train (like most
Bulldogs).
Any specific tips you'd like (potential) Bulldog owners to know?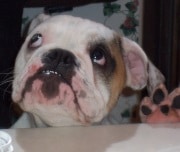 Bulldogs are fantastic dogs, but they are not for everyone. They need a strong yet sensitive leader. Bulldogs are very strong willed and stubborn. They are not large in size but are extremely strong physically.
They require daily care – cleaning their nose folds, eyes and tail folds to prevent infection and clean their ears weekly. They are a brachycephalic breed and because of those smushed noses they can't take the heat and are not going to be your running partner. They don't know their own limits and need you to set those limits or they may literally go until they drop.
I can't imagine life without a bulldog… or two!
Of course the Bulldog is another favorite amongst celebrities.
One Christmas, Victoria Beckham gave her husband David this beautiful Bulldog, Coco. She's one of four dogs owned by David and Victoria Beckham. Coco has famously been pictured with her nails painted pink!
We can't resist Jon Hamm's Vaniety Fair photo shoot with this super cute Bulldog and Brad Pitt with his dog Jacques.
Products for Bulldogs:
Royal Canin Bulldog Dry Dog Food
Royal Canin Bulldog Puppy Dry Dog Food