Whether you're using a crate to keep your dog safely restrained in the car or you feel that you need an extra tool to help with potty training, you'll have to consider the impact of dog crate sizes and what size of crate to get for your dog.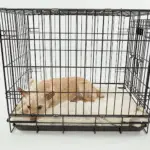 Choosing the correct crate size will make your dog's experience so much better, and it may even become a place of comfort for them.
Here are three things to keep in mind when picking the correct crate size for your dog.
Don't Buy Based on Weight Only For Dog Crate Sizes
You'll see that many crates have a suggested weight range when looking online or in-store.
While weight is a decent general guide for the size of a dog, there can be a lot of variation – this is important to consider when it pertains to your dog's comfort!
If you have a breed that's known for being taller while remaining on the lighter side, you should be sure that you're buying a crate based on height and length.
For example, you should not base the crate decision just on a weight recommendation for dogs like the Greyhound or the Afghan hound.
These breeds are tall so their weight should not be the determining factor for crate size.
Afghan hounds weigh 50-60 pounds and are 27 inches tall.
Greyhounds weigh between 60-70 pounds and are 28 inches tall.
If you buy a crate only based on weight, there's a real risk that your dog might end up cramped and uncomfortable.
Dog crates recommended by dog lovers
How to Know If a Crate Is the Right Size
Even if you're choosing the right size crate for your lab, poodle, or frenchie, here are a few commonly agreed upon tests to make sure your dog has enough space in its crate:
Your dog should be able to stand up. They shouldn't have to lie down or slouch to fit.
They should be able to turn around. You don't want your dog to be unable to change position.
They should be able to stretch. Your dog should have enough forward and backward space to do a classic downward dog when necessary!
Your dog should be able to lie down comfortably without contorting their limbs or constantly being curled up.
Ensuring that a crate isn't too small is the most important thing for your dog's health, happiness, and comfort, but if a crate is excessively large, they may relieve themselves at one end while still keeping their "sleeping zone" clean.
This is contrary to the entire point of having a crate, especially if the intent is potty training.
Also Read: When Should You Buy a Dog Belly Band?
Plan for the Future
If you're looking into crates after just adopting a puppy, be sure to look ahead into the adult years as well.
Instead of buying a smaller crate that matches your puppy's current size, choose a larger one that matches the expected height of your dog as an adult.
Many larger crates come with dividers that you can place inside to separate the space. This makes it easy to adjust the size of the crate as your dog adjusts into their adult size.
Even if you don't plan on using a crate into your dog's adulthood, it's good to be prepared for fast growers and have an extra tool in case you ever need it!
Follow these tips to make sure your dog stays happy and comfortable.
You Might Also Like: