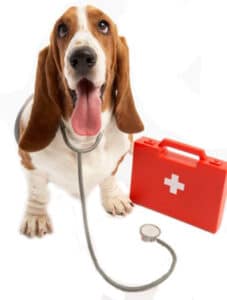 It's National Pet First Aid Awareness Month – an effort started by the American Red Cross to draw attention to the need to know dog first aid. We've recently highlighted the American Red Cross's guide for CPR for your dog, but thought it was important to highlight a few other dog first aid items that's good to have around the home in case your dog has an accident or emergency.

Gimborn makes a number of great first aid products, several have been on the market for over 40 years and used by professional groomers and breeders:
Kwik-Stop Styptic Gel which forms an instant gel barrier to stop bleeding fast, especially for bleeding caused by clipping nails and minor cuts.
R-7 Antiseptic Spray specifically formulated to help speed the healing process of cuts, scrapes, and minor abrasions. It's a gentle, cleansing formula does not contain alcohol and will not sting.
Need a band-aid for your dog, but it's hard to find one that fits? Well PawFlex Bandages has created a line of bandages just for dogs. PawFlex bandages are a disposable non adhesive fur friendly super stretch all in one bandage that maintains a secure comfortable natural fit. The PawFlex sizes and designs are created for specific sized dogs and specific wound-care areas. Check out their website for more information: http://www.pawflex.com/
If your dog has skin issues/infections, hot spots, minor abrasions, and any other skin problems, povidone iodine is a great solution and you can buy it at any pharmacy or drug store. Dr. Karen Becker wrote a great article on the Huffington Post about the advantage of using povidone iodine for dog's skin issues, "The solution I use will take care of staph, yeast, and pretty much any common bacteria but doesn't sting or irritate the dog's skin at all. And it's safe if dogs lick the area after cleaning."
You should also have a pair of tweezers at home in case your dog gets a tick. See our post on Prevent Lyme Disease in Dogs which shows how to use the tweezers to pull out a tick.
Make sure you have the list of bad food for dogs. If you think your dog has eaten a dangerous food or been poisoned, call your vet or the Pet Poison Hotline immediately.
Last but not least is the dreaded dog cone. You probably already have one from your vet when your dog was spayed or neutered. The vet typically has them in clear plastic or a soft collar version. Last time we needed a collar for our dog Kobi, a Havanese, we used a different kind of collar – an inflatable collar from ProCollar. It seemed to fit our dog much better and he was less annoyed with it than the other collars we tried.
We hope your pet says safe and in case of an accident, remember to call your vet asap!