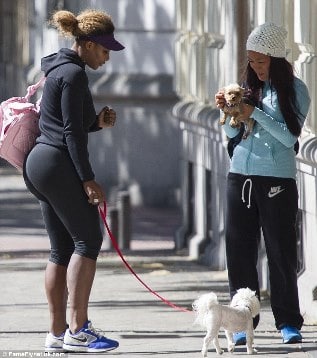 Serena Williams was back in Spain for the Madrid Open with her best friends Chip and Lorelei. You can see them all out for a stroll with Serena's trainer and the physiotherapist, Esther Lee. The fashionista is carrying a very cute pink dog bag. We think it might be a pink Kwigy-Bo Alex Dog Carrier.
Serena was back to defend her women's champion title from last year, only to have to withdraw due to an aggravated thigh strain just before her quarter-final against Petra Kvitova. She flew straight to Italy, where she hopes a first-round bye will give her time to recover in time for the Rome Masters.
Arya the Brave playing chicken with...