We were recently browsing and came across some very hip, exclusive and stylish dog houses. Check these out:
Kooldog Modern Dog House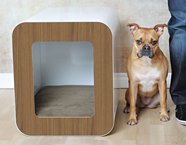 This modern luxury dog house will compliment your home décor and provide a comfortable living space for your dog. Based in Toronto, the Kooldog House is created for the small to medium sized dog.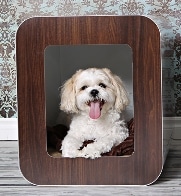 The main body of the dog house is made of durable sheet metal construction and finished in powder coated white. The front cover is stylish wood laminate finish on metal plate, so you know this is a very durable, yet chic product.
The Kooldog House cushion comes with a machine washable slip cover made of microfiber suede fabric that has the look and feel of genuine suede, with the ease and durability of microfiber. It's easy to clean and maintain.
Castagna Dog House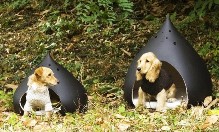 Designed by Italo Bosa for Bosa, the Castagna Dog House is made of ceramic with a beige cushion and interior and a dark brown exterior. Made in Italy, it has a high quality finish and is easy to clean.  It comes in two sizes for the smaller to medium sized dog.
Based on the ancient beliefs of the Egyptians and Assyrians that your dog is something that should be treasured, the Castagna Dog House design is perfect for both inside and outside – a perfect safe haven for the cold winter months or the warmer summer season, where any shade is welcome.
The MESET Shop – Custom Homes for Your Dog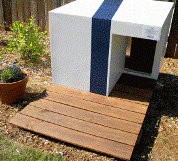 The MESET Shop designs and builds luxury custom dog homes that fit the unique personality of each dog and their owner. These homes are typically situated in the yard and built to compliment the design of the overall home and backyard.
Proper orientation, sure foundations and landscaping are integral to the overall design. These stylish dog houses can also include radiant heating, ramps, sundecks and planter boxes.
ALSO READ: