Do you have a senior dog that happens to be developing arthritis or any number of hip and joint problems? If you do, your vet probably advised you to get them a dog ramp and especially a dog ramp for bed use.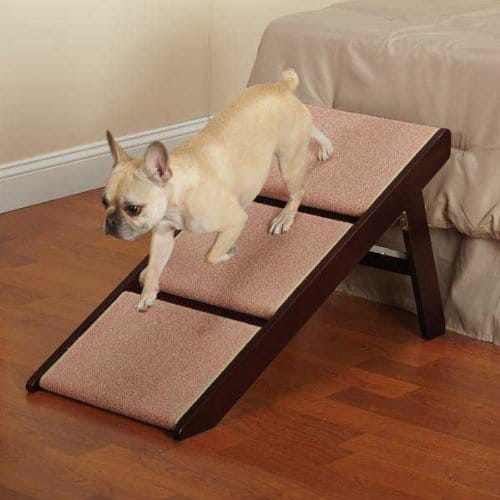 But, the thing is, even if you don't have an elderly or injured pooch, it is always better to get one of these ramps installed at home before they become necessary.
After all, jumping up and down from the couch, bed, or counters can often aggravate several hip, joint, and back problems, leading to medical issues later on.
This is especially true for small dogs, who, more often than not, are the most susceptible to injury or muscle strain.
For this reason, you need to teach your pooch how to use these ramps as early as possible for their own health benefits. But before we get into that, you first need to be able to choose the right ramp to bring home.
LES PLUS BELLES TROUVAILLES DU CHIEN
Les meilleures rampes et escalierspour chiens
Tous les produits sont liés pour faciliter l'achat.
Comment choisir la bonne rampe pour chiens
There are several options to choose from in the market, but picking out the right one suitable for your dog and your home can be tricky.
So, when you are busy browsing around for one, there are a few considerations that you should always keep in mind.
Il s'agit notamment de ;
A-t-il une surface antidérapante ?
Combien pèse-t-il ?
La longueur est-elle suffisante ?
Est-il assez large pour accueillir Grands chiens de race?
Est-il facilement pliable ?
Est-il assez durable ?
A-t-il de bonnes critiques positives ?
Once you have picked the right ramp that ticks all these boxes, you are ready to train your pup on how to use it!
La meilleure façon d'entraîner votre chien à utiliser une rampe d'accès
The first thing you will need to do is to set up the ramp near a bed or a couch. You should also try to make a training field out of it by placing a few things around, like pillows, to block any other alternative routes.
You will also need to gather some tasty treats at the beginning of training.
Next, you need to sprinkle some of the treats and lead them up to the top of the ramp. But try not to stand next to the ramp for too long; it's not good to hover around the process too much. Plus, it may end up placing unnecessary pressure on your pooch.
If you wait patiently, your dog will start to move towards the ramp of their own accord and enjoy the treats you've already laid out.
But remember that with each step they take, you need to make sure that you praise them. After a few minutes, they will likely walk halfway up the ramp by themselves.
But, if they seem hesitant to proceed any further, you can always head to the top of the ramp and wait for them there.
On the other hand, if your pet doesn't seem to be climbing up the ramp fast enough, they may be fearful. After all, depending on the dog size, some may be afraid of heights!
In such cases, some pet parents may opt to use a leash in the training process because their dogs may seem very hesitant.
But, if you decide to use this method, just make sure you only use it to provide gentle guidance, don't force them. The best way is just to keep on encouraging them to proceed all the way to the top.
Une fois qu'ils sont arrivés, donnez-leur une poignée de friandises et faites-leur des tonnes de compliments !
LIRE AUSSI