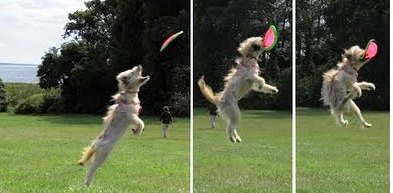 Soft bite floppy disc dog frisbee in action!
The Soft Bite Floppy Disc dog frisbee
is by far one of the most fun toys we got for our dog. It comes in different sizes so you can get the right size for your dog. Here's why we love it:
It's light, flexible and perfect for traveling.

It's durable and ideal for playing fetch.

It floats! Yep – perfect for the pool. Dries out quickly.

We've used it as a quick water bowl. If you're on a walk outside and need to give your dog a quick drink of water it comes in handy.

Our dog loves it!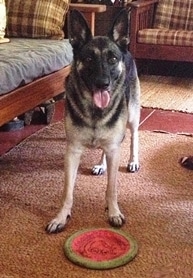 Last summer, our dogsized fan, Lucky, was looking for some tough dog toys and we recommended the Soft Bite Floppy. It ended up being her favorite toy of the bunch! She's tough on dog toys and the Soft Bite Floppy passed the test. Here's an updated photo of Lucky with her favorite new toy, the Soft Bite Floppy dog frisbee!
What's your dogs favorite toy? Let us know!