In June 2014, we gave the Cooling Dog Bed a positive review. Unfortunately, we must retract/rescind the below review. In June 2015, we took out our Cool Pet Pad and it looked like this: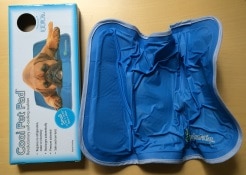 As you can see, the cooling gel in the product dried up or evaporated. We had stored this in our apartment in the closet; as such, it was stored at normal temperatures and conditions. We had only used it a few times.
We spoke with the company, The Green Pet Shop, and they said that this happened to some of the earlier models of this product, and they offered to exchange ours for a new one. Here's their reply:
"We have and always will replace any defective items that have been purchased either through our site or through any third party vendors. The issue had to do with evaporation and the environment the pads were kept in.

The outer cover was a bit too porous and since the gel is water based, water evaporated over time and the pad dried up. We have sold over 100,000 pads over the past two years and this has happened to a few hundred, so it's less than 1%, but that's still too many for us.

As I stated in the last email, we have straightened out this issue and there should not be any more evaporation that occurs in this years production run.

The pads carry a limited one year guarantee. We cannot be responsible for neglect such as rips and tears as a result of a pets claws, nails, and teeth. We cannot be responsible for mold if the pad is kept in dirty, muddy, or wet conditions without cleaning.

Other than that, we have at times forgone the guarantee and replaced pads for our customers in an effort to keep them all satisfied."
At Dogsized, we recommend products based on our own opinions – we do not get paid for our reviews. We only write about products we like.
Unfortunately, in this scenario, the product we liked didn't perform for us over time, and we feel it's our fiduciary duty to tell our readers this happened.
We decided not to get the replacement product.
---
Check out the cooling pads that made our top three picks!
Top 3 Cooling Pads For Dogs
Sealy Lux Quad Layer Orthopedic Dog Bed with Cooling Gel
Premium orthopedic dog bed
Provides support for dogs of all ages
This Lux bed is built with a Pro-Charcoal base to help absorb orders, keeping your dog bed fresh
Coolaroo The Original Elevated Pet Bed
Off-the-ground bed design keeps your pet cool by increasing air flow from all sides

Easy to Clean, Fabric is resistant to fleas, mites, mold, and mildew

Suspended platform provides added comfort by creating low-impact areas to pressure points and joints
Amazon Basics Cooling Elevated Pet Bed
Breathable mesh fabric helps keep pets cool by allowing air to flow
Easy to clean
Easy to assemble
ALSO READ: