Wraparound dog beds are designed to provide a cozy and secure sleeping space for dogs. The wraparound design helps dogs feel safe and protected and can help reduce anxiety and stress levels.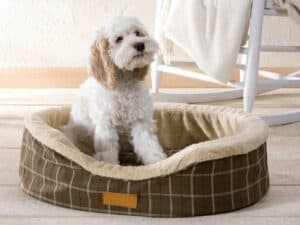 These beds typically have raised sides and a cushioned bottom, which provide a comfortable place for dogs to rest their heads and bodies.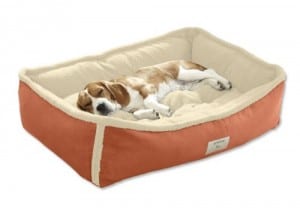 Additionally, the raised sides of the bed can help keep dogs warmer by trapping their body heat within the bed. This is especially beneficial for smaller dogs who may get cold easily.
Overall, wraparound dog beds can provide a comfortable and supportive sleeping space for dogs, which can lead to better quality sleep and a happier, healthier pup.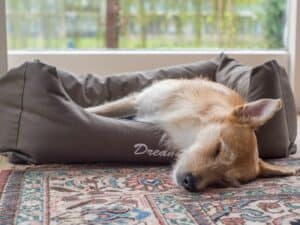 Wraparound dog beds are a great way to keep your best friend cozy, especially as we're heading into the colder fall and winter months.
This dog bed style typically has a higher outer rim which is cushioned and a nice way for your dog to prop up his head. The center of the bed sometimes has a cushion that you can take out. We've searched and found some really plush wraparound dog beds.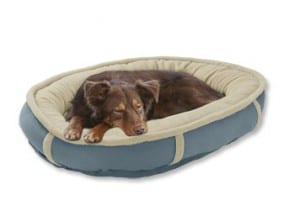 Orvis created the FleeceLock Wraparound Dog Bed. This version is an oval-shaped, supersoft, plush FleeceLock sleep surface on the inside and high-quality, luxurious microsuede on the outside. They state that their fleece won't shed, pill, or pull.
The cover is also removable and machine washable. It comes in a variety of colors. Orvis pet beds have a similar wrap around dog bed in a rectangular shape.
If you want to go more deluxe, Orvis has a  Fleecelock Wraparound Dog Bed with Memory Foam. This deluxe version adds a 4″-thick pad of supportive and cushy memory foam in the bed.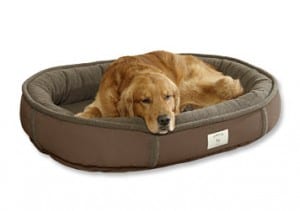 The memory foam has a great advantage in that it retains an even surface that doesn't bunch up or shift with your dog's maneuvering. The water-resistant liner protects the memory foam surface. The cover is constructed of soft microsuede and FleeceLock.
The cover is removable and machine washable. It comes in a variety of colors. We can just imagine how your dog will love jumping into this cozy bed, especially during the colder weather. We even like the idea of having an Orvis dog mat in another area so your pup can layout when it's just not quite bed time yet.
ALSO READ: