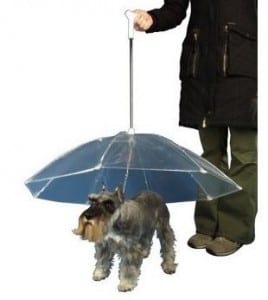 Many like to play a good joke on April Fools Day and we have just the products (i.e. for those that are also dog owners). They might not be exactly a practical joke or hoaxes, but they will certainly make you laugh and get some definite reactions!
Here are our Top 5 Funny Dog Products for April Fools Day!
1. The Dog Umbrella
Does your best friend like to avoid going out when it rains? Well now you can provide some coverage for your dog with this handy dog umbrella – especially if it's raining on April Food Day!
The dog umbrella features blue plaid waterproof fabric, with a clear PVC window center on the pet umbrella. For easy strolling, the umbrella is designed with a padded grip and ergonomic, flexible handle that you can bend to your comfort. A nylon leash under the umbrella attaches to your pet's collar and also adjusts for a comfortable length.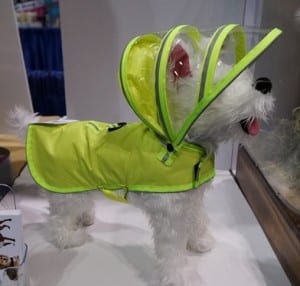 2. The Dog Raincoat with Umbrella like Head Protection
Get your dog a futuristic raincoat with its own built in umbrella / visor / rain protection. It has a clear hood so your dog can see out while still being protected.  Created by Push Pushi, it also comes in several different colors and patterns.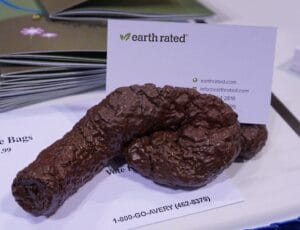 3. Dog Poop Cardholder
This is a cardholder for Earth rated, an eco dog poop bag company. We don't actually believe these cardholders are for sale, but it's pretty genius and funny for them to use these. It definitely got our attention!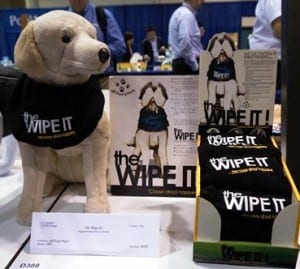 4. Wipe It – Drool Bib
Here is the Wipe It – for your drooling dog. Created by All Four Paws, now your dog can finally have a bib to catch all that drool. You can also have easy access to wipe yourself off when he drools on you.
Brilliant!
5. Duck Muzzle for Dogs
Does your dog quack like a duck or snap like a duck? Well now he can also look like a duck in these OPPO muzzles for dogs.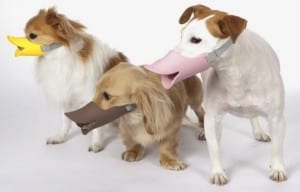 The OPPO Dog Muzzle is guaranteed to replace your dog's old boring, intimidating muzzle with a bright and modern muzzle with some comical appeal. It will turn your cute little dog into a semi-duck, designer-billed adorable dog. As you can imagine, the product was created by a Japanese pet design company, OPPO. They strive to develop pleasurable and optimistic products for an environment in which people and animals live together. Their name OPPO stands for OPtimistic and POsitive.