June 2014, we gave the Cooling Dog Bed a positive review. Unfortunately, we must retract/rescind the below review. June 2015, we took out our Cool Pet Pad and it looked like this: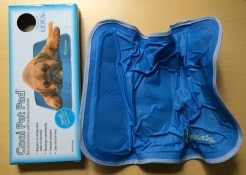 As you can see, the cooling gel in the product dried up or evaporated. We had stored this in our apartment in the closet, as such, it was stored at normal temperatures and conditions. We had only used it a few times.
We spoke with the company, The Green Pet Shop, and they said that this happened to some of the earlier models of this product and they offered to exchange ours for a new one. Here's what they said:
"We have and always will replace any defective items that have been purchased either through our site or through any third party vendors. The issue had to do with evaporation and the environment the pads were kept in. The outer cover was a bit too porous and since the gel is water based, water evaporated over time and the pad dried up. We have sold over 100,000 pads over the past two years and this has happened to a few hundred, so it's less than 1%, but that's still too many for us. As I stated in the last email, we have straightened out this issue and there should not be any more evaporation that occurs in this years production run.
The pads carry a limited one year guarantee. We cannot be responsible for neglect such as rips and tears as a result of a pets claws, nails, and teeth. We cannot be responsible for mold if the pad is kept in dirty, muddy, or wet conditions without cleaning.
Other than that, we have at times forgone the guarantee and replaced pads for our customers in an effort to keep them all satisfied."
At Dogsized, we recommend products based on our own opinions – we do not get paid for our reviews. We only write about products we like. Unfortunately in this scenario, the product we liked didn't perform for us over time and we feel it's our fiduciary duty to tell our readers this happened.
We decided not to get the replacement product.
If you purchased the product and need a replacement, please let us know and we'll send you The Green Pet Shop's contact information.
Is your dog looking for a good place to cool down? We found a great solution! It's this fantastic Cool Pet Pad that is a self-cooling cushion. When your dog lays down on this cooling dog bed, it activates the cooling gel in the pad. In fact, it's even great for humans if you sit on it or lay back on it. We sat on the Cool Pet Pad after running and also after hours of standing and found it to be very soothing and cooling!
The Cool Pet Pad will remain cooler than the surrounding temperature for about 2-3 hours of constant use. How it does this remains a mystery to us. We reviewed the patent documents, but we're not materials engineers, so it was a bit "greek" to us. Regardless, we have tested it and we think it's amazing!
Here are some other cool (yes, pun intended) facts:
Requires NO refrigeration, water or electricity
Recharges automatically
Portable and easily folds
Safe and non-toxic
Durable and easy to clean (wipe off with damp cloth)
It comes in 4 sizes:
Small: < 25 lbs Pad Dimensions: 11.8″ x 15.7″
Medium: 25 -69 lbs Pad Dimensions: 15.7″ x 19.7″
Large: 70-99lbs Pad Dimensions: 35″ x 23.6″
X-Large: 100lbs+ Pad Dimensions:: 45″ x 27.5″
The patented Cool Pet Pad was created by The Green Pet Shop. It's their mission to create products that care for our pets without compromising the environment.
In 2010, Larry Wright founded The Green Pet Shop and his son, Brian, came on board in 2012. Their 5 year old St. Bernard/Great Pyrenees mixed dog, Reggie, uses his Cool Pet Pad every day. It's literally his favorite place to lie in the house wherever it's placed.