Does your dog have hip dysplasia or other hip-related problems with pain? Hip replacement surgery for dogs might be an option to consider to improve your dog's life.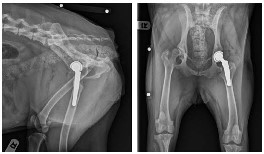 It's possible to have the damaged parts of the joint replaced with a prosthesis, just like with human hip replacement surgery. What a great solution option to help out our dogs in pain or reduced mobility get back to improved health!
The surgery involves removing the diseased femoral head in the hip joint and socket (acetabulum) and replacing them with an artificial ball and socket joint.
Each component of the artificial hip is made of cobalt chrome stainless steel or titanium and ultra high molecular weight polyethylene (plastic cup).
The new prosthetic components are designed to allow the joint to move the same way as a normal hip. As with human hip implants, there are cemented and cementless total hip implants available.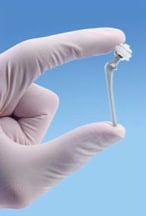 The goal of surgery is to return your pet to a pain-free, mechanically sound, normal hip function.
Generally, dogs are found to be more comfortable and have an improved quality of life. Many owners report that their pet can do things they have not done since they were a puppy.
Apparently post-surgery most dogs experience an increase in muscle mass, improved hip motion, and increased activity levels. The Ohio State University Veterinary Medical Center claims that some "mean" dogs have even developed a pleasant personality when the pain was eliminated from their hip(s).
"We have found that 95% of the hips that have been replace by surgeons at OSU return to normal function or near normal function. More than 95% of owners feel that their dog's quality of life is improved or markedly improved."
According to the Animal Medical Center, independent clinical studies show that 96% of pets who undergo total hip replacement surgery will return to full, normal function, typically within 6-10 weeks following surgery. In fact, they can walk on their new hip immediately following surgery.