The beloved French Bulldog was bred originally as a Toy Bulldog a lapdog or companion for ladies. The French Bulldog is also known by other names: Frenchie and Bouledogue Francais.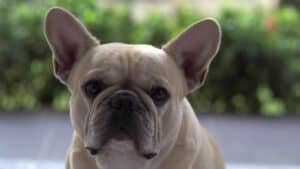 Frenchies are very playful and affectionate. They are loyal, loving, and wonderful companion dogs. While good at alerting their owners to danger, their main role is that of lap warmer.
The Frenchie requires minimal exercise and are indoor dogs but require air conditioning in warm weather.
The French Bulldog is Common Among Celebrities
There are quite a few celebrities that are pet parents to French Bulldogs. One of our favorite pairings is Hugh Jackman and his French Bulldog Dali.
We've previously highlighted Hugh scootering around with Dali and taking her to the gym.
Reese Witherspoon has a French Bulldog named Coco Chanel.
Victoria and David Beckham have a French Bulldog named Scarlett (including 3 other dogs).
Mary-Kate Olsen with her French bulldog. Martha Stewart has 2 French Bulldogs – Francesca and Sharkey.
Christina Ricci has a Frenchie named Ramon.
Mario Lopez found the love of his life – a French bulldog named Julio Cesar Chavez Lopez.
Now there are also two Frenchies that are famous in their own right. Manny The Frenchie has over 600k followers on Instagram.
There's also Trotter, The Hipster French Bulldog, that has over 200k Instagram followers.
We love Trotter's super fashionable photos!
Grooming
Luckily, the Frenchie has a short coat so it doesn't require much brushing, but skin folds should be frequently cleansed.
In the summer, you should make sure your dog has adequate sun protection (See our article Sunscreen for Dogs – They Need Protection Too!)
Already a proud French Bulldog parent? Here are some links to products that are great for Frenchies. We'll fill this list up as we find more cool products for Frenchies (feel free to suggest some!).
Products for French Bulldogs: