A collapsible dog bowl stand can make feeding time for your dog more comfortable, convenient, and safer, especially during outdoor trips or travels.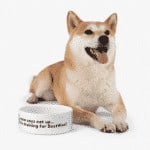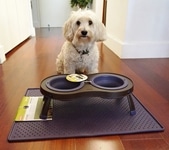 A while back, we wrote about Popware for Pets and how we think they have some of the coolest and functional dinnerware for dogs on the market. Back then, we gave away the very cool H-DuO with Companion Cup, which is a bottle with two 12-ounce watertight chambers so you can hold two different drinks simultaneously. Or if you prefer, put water on one side and small doggie treats (or food) on the other. It includes an eight-ounce collapsible cup that clips onto the bottle, which makes it ideal to travel with your best friend.
Now, we're happy to announce we're giving away a Popware for Pets Collapsible Pet Feeder which is a collapsible dog bowl stand with two bowls (20oz capacity). The bowls are also BPA free, removable and dishwasher safe.

We're also giving away a matching GrippMat! The GrippMat has raised edges to contain crumbs and spills. You can see our dog here with this very cool set, the Collapsible Pet Feeder and GrippMat, from Popware in a dark purple color.
Kobi wants to know, why are we giving this away? Well that's the whole point of Dogsized – we find great products for our readers and fans. If we're lucky, we'll be able to giveaway some amazing products. We make life easy for you by making our links shop-able so you know where to get these amazing products.
We do NOT get paid for any of our reviews or recommendations!
We are giving our readers and fans our honest opinion of products and searching for the latest tips, trends and technology for dogs.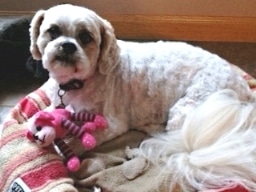 Winner: Congratulations to Suzy Luime and her dog Caramel, a Lhasa Apso, from New Jersey for winning the Popware Collapsible Dog Bowl Stand & GrippMat!
See more watering & feeding bowls and dinnerware!
ALSO READ