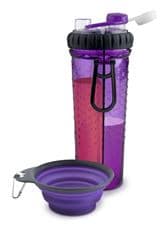 We were so excited when we came across Popware for Pets. They have very clever solutions for modern dog dinnerware. They're functional, colorful, lightweight, BPA-free and easy to travel. Our favorite product is their H-DuO with Companion Cup, which is a bottle with two 12-ounce watertight chambers so you can hold two different drinks simultaneously. Or if you prefer, put water on one side and small doggie treats (or food) on the other. It includes an eight-ounce collapsible cup that clips onto the bottle, which makes it ideal to travel with your best friend.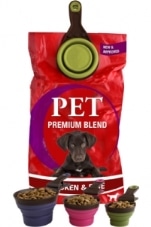 Another ultra practical and innovative product is the Popware Collapsible KlipScoop. It's a dog food scoop that collapses flat to then use as a clip for your food or treat bag. It comes in 3 sizes (2 cup, 1 cup and 1/2 cup) so you can appropriately measure food for your dog.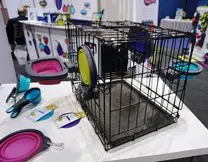 The Popware Collapsible Kennel Bowls are super clever as you can have them out when your dog is using them and collapse them when their not in use to give your dog more space or convenient for travel. They're also easily detachable for cleaning and dishwasher safe.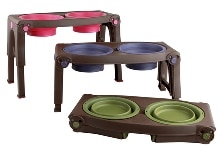 For easy travel, Popware has expandable/collapsible pet feeders and Grippmats to prevent spills. The Adjustable Height Pet Feeder allows you to increase or decrease the height of the feeder to best fit your dog. The entire feeder collapses for easy storage.
We're impressed with the function, style and quality of the products! And we're not alone either, Dr. Marty Becker, who has been the veterinary contributor on ABC's Good Morning America for the last 16 years awarded Popware a "Becker's Best" award two years in a row.