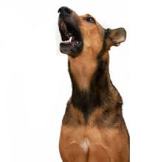 We all love our dogs, but some of them really love to bark a lot and that can get annoying for you and your neighbors (if they live close to you).  Ideally, if you have a puppy, you can nip this in the bud with some puppy training. However, perhaps you adopted an older dog or your dog's barking never seemed to get under control. Regardless, here are a few tips to try out:
Don't Yell at Your Dog
If you yell, it's likely your dog thinks you're barking back at him and that could be a fun game. So remember to stay calm.
Desensitize Your Dog from the Stimulus
Does your dog always bark at the same person, situation or object? If so, you'll have to desensitize them from the stimulus. Golden rule is for you to remain calm during the training. If you have the advantage of knowing when the stimulus will be present (or creating the situation yourself), this can be helpful.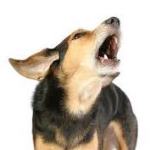 Start with having the stimulus far away. If your dog is not barking, give your dog a treat. Gradually move the stimulus closer to your dog. As long as your dog is not barking, you can give your dog a treat. When they eventually start to bark, use your body and your calm-assertive energy to create an invisible wall between your dog and the stimulus. If needed, stand between your dog and the stimulus. Wait for your dog to calm down and remain quiet. Then you can give your dog a treat again. You'll have to practice this over and over again to teach your dog – so be patient.
If you can't control the environment when your dog is going to notice the stimulus, an alternative is to use something like the Dog Dazer II Ultrasonic Dog Deterrent which emits an ultrasonic discomforting sound, which is not harmful, but deters the dog from barking. The high frequency sound is audible to dogs, but not to humans. When your dog starts barking, just push the button on the device to send an ultrasonic sound that deters the behavior. Remember to keep treats on you so you can give your dog a treat when you come in contact with the stimulus and your dog does not bark.
Another option is to use a citronella spray like PetSafe GentleSpray Anti-Bark Collar which harmlessly works to stop excessive barking. The collar uses a microphone and a vibration sensor to pick up your dog's bark. It then releases a burst of citronella spray in front of his snout to distract him from his barking behavior. Dogs typically don't like the smell of lemon, so this can be quite effective. We used it with our dog when he was young and soon after the barking problem stopped. Now he rarely barks.
Divert Your Dog's Attention to Something Else
If your dog starts barking, try to have something you can quickly grab like a ball or favorite squeaky toy to distract your dog from what ever stimulus they are barking at.
Keep Your Dog Tired
It's possible your dog just has too much pent-up energy. Make sure your dog is getting sufficient physical and mental exercise every day. A tired dog is less likely to bark from boredom or frustration.