Do you remember back in the day when you were a child and used to lie down on the floor on those hot summer days because it felt cool and relaxing?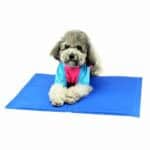 Nobody? Just me? That's awkward.
Anyway, my point is that if you have a pooch, chances are they probably do the same thing. Since they can't cool themselves by sweating as we do, they have to find different ways to keep their bodies heat down.
And while there are several different ways by which you can help your little furry friend beat the heat, the best and most ideal way to do this is to simply buy them a dog cooling mat. One of the biggest questions that people in your position may ask is whether cooling mats are actually safe for dogs?
And the answer to that question is that it depends. For the most part, many pet parents discover that these cooling mats are safe and extremely useful in keeping their pets cool on hot and humid days.
Although cooling mats are made to serve the same purpose, there are different types. Each of them is made using different materials.
If your dog is prone to chewing and biting, keep in mind that the materials used to make the dog cooling pad may be potentially hazardous.
TOP DOGSIZED FINDS
Bes Cooling Dog Mats and Beds
Click the photos to check them out.
What are dog cooling pads made of?
This will vary depending on the type of cooling mat. Some are extremely simple, as all you need is to fill in some cold tap water, and you're good to go. On the other hand, others use special chemical gels to keep the cooling mat working for longer.
We're going to focus on the gel cooling pads, as while they are the most effective at keeping your pooch cool, they also happen to pose the most significant risk.
Why are gel cooling pads risky?
As the name suggests, gel cooling pads don't need water or even electricity to work. The chemical inside the mats essentially absorbs your pet's body heat to cool them down. Once they sit down on the mat, it activates and is also designed to automatically recharge itself once your dog stops laying down on it.
But, if your canine happens to be a chewer and decides to play around with it, they may end up ingesting the chemicals, which could then prove hazardous.
Luckily, most brands point out that they avoid using toxic chemicals, so it shouldn't be a problem. But, just to be sure, you can always discuss the matter further with your veterinarian or dog trainer.
Alternatively, some other types of dog cooling mats you can choose from, such as water cooling mats, ice pack cooling pads, or even raised dog beds!