Does your dog devour bully sticks and other rawhide treats in minutes (or seconds)? Well, we've found a great treat for those aggressive chewers that will last a long time – antlers for dogs! They can be a healthy alternative to other chews.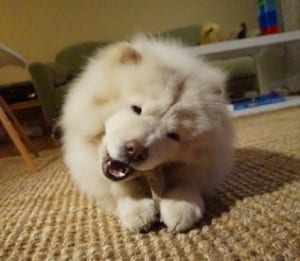 Antlers for dogs are loaded with calcium and minerals and are a superb long lasting treat.
Dogs aren't actually able to chew through the antlers, but rather they gradually grind them down, which makes them a great way to keep tartar and plaque off your dog's teeth.
Dog owner's love them because they are not messy and they don't smell likes some of those natural dog treats (e.g. pig ears).
[new_royalslider id="3″]
Do you wonder how long these antlers really last? Well, we tried them out with our resident chow chow, Lila.
You can see for yourself in the photos and slide show below that they're pretty tough. Usually, Lila can eat a whole bully stick in about 5 minutes.
After about 10 minutes of chewing on the Acadia Antler (and this was a small sample), she barely made a dent in it.
Now we've heard of various companies that sell antlers for dogs, but we've met Acadia Antlers and believe they really have a high quality product that is also concerned about the environment.
Acadia Antlers makes sure their products are 100% cruelty free and no animals are harmed in the making of their chews. A surprising fact we learned is that moose shed their antlers every year in the wintertime and grow new antlers in the spring.
As such, Acadia Antlers only use naturally shed antlers. They purchase the antlers directly from shed gatherers that find them on the forest floors in Maine.
We also appreciate that it's a family-owned business, started by Carol Plescia, who is a single mom and raising two boys on her own.
Other Recommended Antlers to Try
Everything is linked for easy and safe purchase: