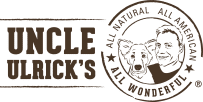 Kobi loves Uncle Ulrick's Jerky Strips so we decided to get the scoop on the company where these tasty treats come from. In their logo, you'll see Ulrick and his dog, Pepe. In her old age, Pepe would rarely get excited about anything, except chicken jerky treats. She would do anything for some jerky!
Because of all the health issues with imported jerky treats, Ulrick and his team stopped feeding imported jerky treats to their dogs and substituted them with other U.S. make jerky. Unfortunately, the substitutes were just not at the quality level they wanted. "When we looked for American made jerky treats, they weren't easy to find and usually included lots of other ingredients".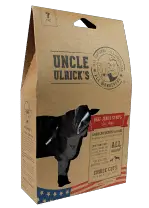 So Ulrick and his team set out to create an all natural, American sourced and made jerky treat with as few ingredients as possible with a level of quality they expected from their own food. They started product development in the fall of 2013 and began production in the spring of 2014. Since then, they've been building the brand and spreading the word about their totally wholesome, completely delicious jerky treats.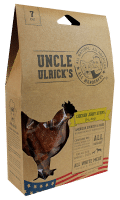 There are only 2 ingredients in their jerky strips! Chicken Jerky Strips are made of all white meat American chicken breasts (fresh, not frozen) and food grade American vegetable glycerin. The Beef Jerky Strips are make of choice cut American beef (fresh, not frozen) and food grade American vegetable glycerin. They do not contain any wheat, grain, soy, fillers, artificial colors or flavors. My cousin almost ate one of these jerky strips until I quickly told him they were for the dog. Perhaps I shouldn't have said anything and let him try them out too.
All of the chicken and beef products are proudly made in the America's heartland, Ohio! Which is also where the company's headquarters is located. The sweet potatoes (for the Sweet Potato Strips) are grown and dehydrated in North Carolina. The Uncle Ulrick's Executive Chef monitors production and ensures to maintain their premium standards.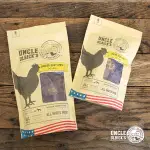 Uncle Ulrick's recently launched Chicken Jerky Chips and Beef Jerky Chips. They are smaller than the standard sized jerky strips, so they're better for a bite sized snack, training or a quick reward. The chips are essentially smaller pieces of their jerkey strips, as sometimes the pieces of chicken breasts and beef are just too small to make a full strip and they didn't want these smaller tasty bits to go to waste, so they were turned into jerky chips!
This spring, Uncle Ulrick will launch an entire line of DIY jerky treat kitchen accessories so that dog owners can use the meat of their choice (organic, grass fed, etc.) and make jerky at home for their dogs without much time or effort. It's a more affordable way for many pet owners to treat their pets with premium jerky.