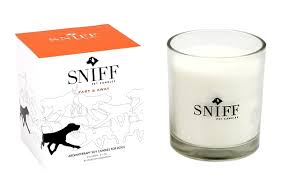 If you have a dog, you know they can be guilty of farting (just like humans). Sometimes those dog farts can clear a room. Jenn Mohr, the founder and designer for Sniff Pet Products, has come to the rescue to mask those dog farts and help your best friend with their innovative line of Sniff Pet Candles.
Sniff Pet Candles are 100% green, made with natural organic ingredients and hand poured in the U.S.. The aromatherapy properties also promote health and well-being in your dog (e.g. ease digestion) and will make your home smell much better. Their candles also burn for 70 hours!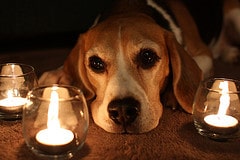 Their #1 selling product is Fart & Away (what a brilliant name!). This delightful combo of floral ylang ylang, tuberose, white tea, myrtle and fennel works like a charm to dissipate any awkwardly unexpected emissions and ease the cause of your dog's unpleasant condition.
Friends to the Rescue is an alternative to a citronella candle and helps to repel insects. This mixture of lemongrass, eucalyptus and grapefruit held together by geranium, cypress and ginger with a finish of mangosteen will keep the little critters at bay.
They have other great aromatherapy candles to help not only with dog farts, but also to either calm your dog (Field of Dreams), invigorate your dog (Day in the Hamptons) or give your dog a sense of the outdoors (Splendor in the Grass).
See Jenn Mohr, the founder and designer for Sniff Pet Products, speak about her products: