Get ready to laugh, cry, and fall in love with man's best friend all over again – because this heartwarming and hilarious dog movie is a must-watch for any pet lover.
If you haven't seen it and love a good laugh, then you must check out: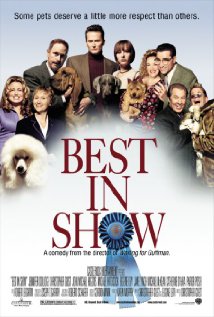 This movie is hilarious and our favorite dog movie! If you are a dog owner or fan and haven't seen it, then you have to check this out! We highly recommend it!
If you've already seen it, you already know how funny this movie is.
Actor/director Christopher Guest returns with another semi-improvised comedy that casts a satirical gaze on the world of championship dog breeding and training.
A television crew is on hand to document the prestigious Mayflower Kennel Club Dog Show and competition is fierce among the canine devotees vying for top honors. See who wins Best in Show!
A great cast: Eugene Levy, Catherine O'Hara, Parker Posey, Michael McKean, John Michael Higgins, Fred Willard, Jennifer Coolidge and Jane Lynch.
ALSO READ