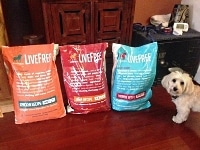 Dogswell recently sent us 3 bags of premium LiveFree dry dog food in salmon, lamb and chicken recipes to test. We are very careful about testing out dog food. First of all, we want our dog to have the best health and we understand you need to be very careful about switching a dog's diet.
Secondly, our dog, Kobi, is really picky about food and treats. About 90% of the treats he's offered, he does not eat. Sometimes, we'll put out his food in the morning and he won't eat it until later in the afternoon. As such, Kobi is a very discerning dog food taste tester – an aspirational NY Times (dog) food critic.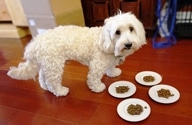 We always check out the ingredients to make sure they're top quality. Dog Food Advisor gave Dogswell LiveFree Dry Dog Food a 5 star rating (out of 5 stars).  Kobi already eats Dogswell Nutrisca, so we were very comfortable in trying out another Dogwell food brand. LiveFree is also made in the U.S.A..
What we also like about this dry dog food is that it's ultra low glyemic, grain and potato free. It has NO grain, corn, wheat, soy, gluten, potatoes, tapioca, BHA/BHT, artificial colors, flavors or preservatives. Our dog has a lot of allergies and since switching him to a grain free diet about a year ago, he has less allergy symptoms, i.e. less scratching.
So how did the test go?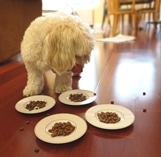 On the first day, we gave Kobi the three LiveFree dry dog food recipes in salmon, lamb and chicken to test. We put them on 3 identical plates and placed them together so not as to give the one recipe more advantage over another. Kobi was immediately intrigued (good sign) and started sniffing all the recipes. When he started eating, his favorite was clearly the salmon, followed by the lamb and chicken.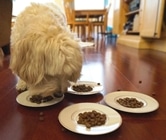 On the second day, we added a fourth identical plate with his typical Dogswell Nutrisca dry food. Again Kobi was immediately interested and started sniffing all the recipes. After his sniff, toss and sampling of the recipes, he ate the LiveFree salmon recipe followed by the Nutrisca, LiveFree chicken and LiveFree lamb recipes. Another thing to note is that Kobi ate all of the food back to back. If he doesn't like something, he might have left it alone and perhaps gone back to it later.
Results: LiveFree by Dogswell is enthusiastically Dogsized approved!
Note that we do not get paid for our reviews and only write about products we like. It's part of our motto to curate great products for our Dogsized readers and fans!