When we were last at the Global Pet Expo we explored some of the funny dog products.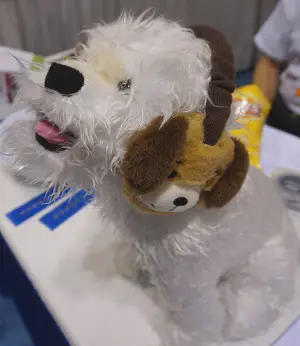 Here are some the general categories of funny dog products that have been popular in the past and may continue to be popular at pet expos or in the pet industry.
1. Funny Dog Products Dog Costumes Category
Funny dog costumes have always been a hit at pet expos. From superhero outfits to hilarious character costumes, dressing up dogs can create adorable and entertaining moments. Some examples include dogs dressed as hot dogs, lions, pirates, or even movie characters.
2. Funny Dog Products Interactive Toys Category
Interactive toys that engage dogs in amusing activities have gained popularity. These toys often involve treat dispensers, puzzles, or toys that make funny noises. They can provide mental stimulation and entertainment for dogs while keeping them active.
3. Funny Dog Products Novelty Accessories Category
Various novelty accessories can make dogs look cute and silly. Examples include hats, sunglasses, bowties, or bandanas with funny slogans or designs. These accessories not only make dogs look charming but also create opportunities for humorous photos.
4. Funny Dog Products Food Bowls Category
Food and water bowls with humorous designs or quirky shapes can add a touch of humor to mealtime. You might find bowls shaped like dog faces, dog paws, or even ones that have funny messages printed on them.
5. Funny Dog Products Talking Toys Category
Toys that make funny sounds or mimic human speech can be entertaining for both dogs and their owners. Some toys have sensors that activate funny phrases or sounds when dogs interact with them. These toys can elicit laughter and amusement.
6. Funny Dog Products Doggie Clothing with Funny Message Category
T-shirts, hoodies, or sweaters with amusing slogans or witty phrases can add a humorous element to your dog's wardrobe. These items often feature jokes related to dogs or playful messages that reflect their personalities.
Funny Dog Products We Loved at the Global Pet Expo
With over 3,000 vendors, there are destined to be a few out there that really make us chuckle. Here are our favorite funny dog products from the Global Pet Expo. We hope they put a smile on your face too: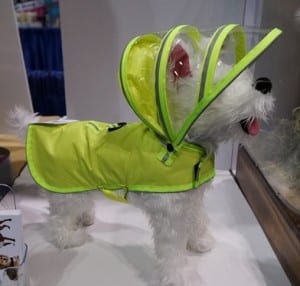 If you loved the Dog Umbrella, then this dog raincoat by Push Pushi will be right up your ally. It has a clear hood so your dog can see out while still being protected. It also comes in several different colors and patterns.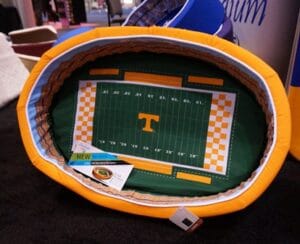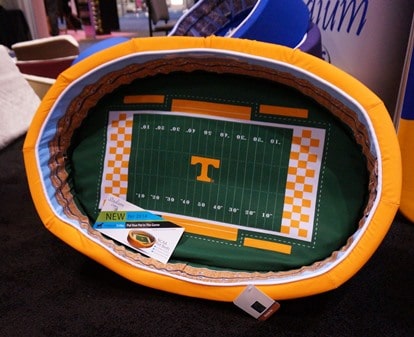 Le prochain est un lit pour animaux de compagnie pour le fan de sport ultime par Lits d'enfant du stade, vous pouvez maintenant obtenir un lit pour chien avec le stade de ton équipe de sport universitaire préférée ! Il y a du football et du basket - juste à temps pour la folie du mois de mars !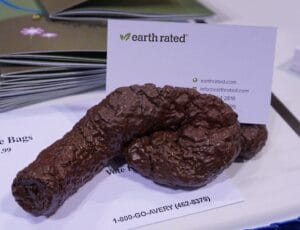 Il s'agit d'un titulaire de carte pour Classée par la Terreune entreprise de sacs à crottes pour chiens écologiques. Nous ne croyons pas vraiment que ces porte-cartes soient à vendre, mais c'est assez génial et drôle de leur part de les utiliser. Cela a définitivement attiré notre attention !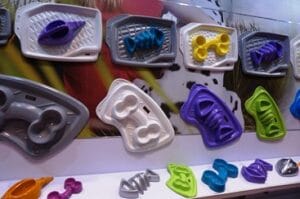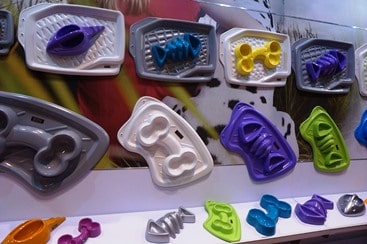 Lorsque nous avons vu ces objets colorés, nous n'étions pas tout à fait sûrs de ce que c'était. Puis un représentant très sympathique d'Air Design Pets nous a expliqué qu'il s'agissait de bols pour chiens destinés à la nourriture et à l'eau. Wow - super moderne !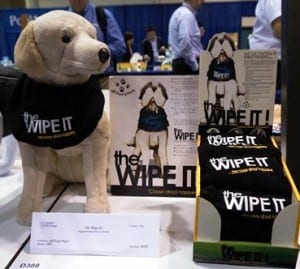 Voici le Wipe It - pour votre chien qui bave. Créé par All Four Paws, votre chien peut enfin avoir un bavoir pour attraper toute cette bave ou vous pouvez avoir un accès facile pour vous essuyer lorsqu'il bave sur vous. C'est génial !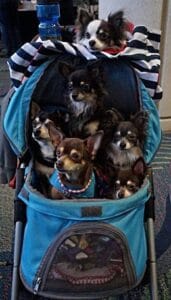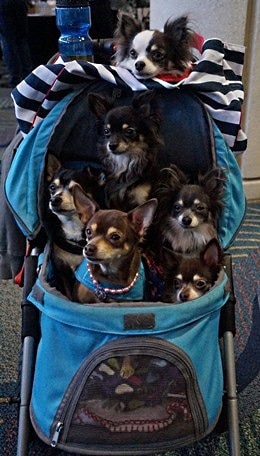 Le dernier, mais non le moindre, n'est pas un produit, mais plutôt une bande de chihuahuas dans une poussette pour chiens. Nous avons vu ces 6 mignons lors d'une after party et ils se faisaient prendre en photo par tous les passants.
Remember that specific products and trends can change over time, so the availability and popularity of funny dog products may vary at different pet expos or in different years.