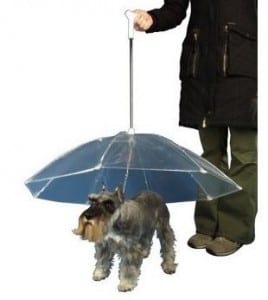 Yep – someone has invented the dog umbrella. This totally cracked us up.
Does your best friend like to avoid going out when it rains? Well now you can provide some coverage for your dog with this handy dog umbrella.
The dog umbrella features blue plaid waterproof fabric, with a clear PVC window center on the pet umbrella. For easy strolling, the umbrella is designed with a padded grip and ergonomic, flexible handle that you can bend to your comfort. A nylon leash under the umbrella attaches to your pet's collar and also adjusts for a comfortable length.
Just think of this as the ultimate conversation starter…