Many dog owners love to dress up their dogs in cute and stylish outfits, but have you ever considered taking it a step further with dog suits?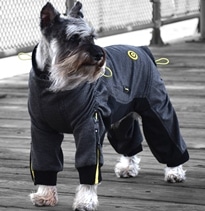 What are dog suits?
Dog suits are outfits designed specifically for dogs that cover their entire body, from head to tail. They come in a variety of styles and designs, from superhero costumes to formal tuxedos.
These suits can be used for a variety of occasions, such as Halloween parties, weddings, or any other event where you want your furry friend to look their best.
Dog suits are typically made from lightweight and breathable materials to ensure that they're comfortable for your pet to wear and move around in. While some dog owners may find them silly or unnecessary, others enjoy the fun and stylish options that dog suits provide.
When to get dog suits for your pup
With fall having started and winter on its heels, it's time to get out your dog's wet & winter wear and perhaps upgrade to a new dog jacket and suit.
Zippy Dynamics makes some of the best dog suits in the industry. What we love about them most is that they don't just cover the body/girth of your dog, but also the legs and arms.
This is particularly helpful if your dog easily gets dirty (e.g. they're low to the ground or have a propensity for rolling around in the mud).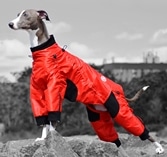 Our dog, Kobi, is white, so when it's raining outside he gets what we call the "Oreo effect" – the top half of him is white and the bottom half of him is black, like an opened Oreo cookie.
The Zippy Dynamics suit is able to cover his whole body so we don't have to give him a bath every time we take him out for a walk, thus saves us time and Kobi's happy too since he's not a fan of baths.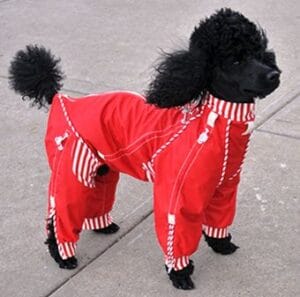 We're fans of the Zippy Dynamics dog suits because they have a unique fit due to the adjustable cords and elastic inserts in key areas that guarantee a full range of motion.
We find that there are many dog jackets that don't fit very well so we appreciate the customization this dog suit provides.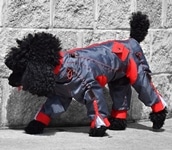 The Zippy Dynamics dog suits are also lightweight, breathable and water resistant. The main zipper is on the back and there is a zipper on each pant leg.
We definitely prefer to have a zipper on the back rather than on the bottom because it's easier to dress our dog and keep things clean.
Last but not least, we love the sporty, modern style of these dog suits!
ALSO READ: