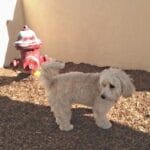 If you're flying cross country with your best friend and need a layover or just want to travel somewhere warm, we can definitely recommend the Phoenix Sky Harbor Airport in Arizona. During the holidays, we had a layover in Phoenix on our way from NYC to California and were delighted to experience such a dog friendly airport.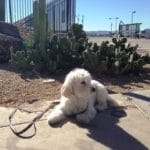 The Phoenix Sky Harbor Airport has a pet park at each of their three terminals. What's really nice is the pet parks are actually close to the terminal so you do have time to visit them if you have a layover. It gives your dog a chance to stretch their legs, drink water and take potty breaks (mitts for cleaning up provided).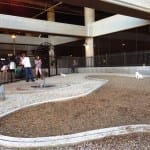 We had a chance to visit two of them. First we went to the Pet Patch, a little relief area with a fake fire hydrant just next to Terminal 2. It was so nice to be out of the cold weather, we took a nice walk around the terminal and Kobi was able bask in the sun a bit. Since we had a long layover, we decided to go check out the Bone Yard.
The Bone Yard is the largest pet park and located on the west side of Terminal 4 just outside of baggage claim. We were surprised how large it was and it also had quite a few dogs visiting. Phoenix Sky Harbor's motto is "America's Friendliest Airport" and we can agree that it was a great experience!