Are you looking for a way to keep your canine companion safe, even during the night when visibility is poor? Well, it's time to consider purchasing an LED dog collar for them today.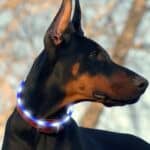 After all, when it comes to taking early-morning or late-night walks, your furry friends must be seen clearly by both drivers and other pedestrians.
On the other hand, you can't just purchase any random LED collar you find online. That is a no-no. You need to take the time to think about what would make for the best fit for both you and your pet.
Lucky for you, we're going to quickly dive into the considerations that you need to take into account before making that final purchase for your pup!
Top DOGSIZED Finds
Best LED Dog Collar Finds To Get For Your Dog
All products are linked for easy purchase.
What Should You Consider When Choosing A Led Collar?
Sizing
One of the first things you need to look out for is the collar's size. Some LED dog collars are adjustable, while some come in fixed sizes.
As such, if it's adjustable, you need to ensure that it will perfectly fit your pooch without chafing or pinching them in any way.
If your pet tends to grow out long hair, it's vital that the collar can still be easily seen through the hair or, if need be, fitted above the hair.
In which case, you will need a collar that is at least size or two up. This is why most fur parents prefer getting adjustable collars for the sake of convenience.
LED Brightness
In the early morning and late-night, it can be challenging for bystanders to see your dog in the dark. But with the right LED collar, your pooch should be able to be easily noticed even from a distance of at least 30 ft.
This means you need to ensure that it is bright enough to let everyone around you see you and show you what is in front of you. Some LED collars also feature a 360 rotating light for extra visibility rather than only pointing the light frontwards.
Power
Most of these dog collars need batteries to keep them working. Still, some collars offer USB charging. Frankly speaking, it's a no-brainer to go for the rechargeable ones.
After all, nobody wants to deal with batteries. It's tedious having to keep replacing them, they aren't budget-friendly, and honestly, they are just terrible for the environment.
Using a rechargeable LED collar means you don't have to worry about keeping spare batteries around.
Durability
Another essential factor to consider is how durable and reliable the LED collar is. The collar should work even in the hottest or coldest climates—whether it be raining, snowing, or boiling out.
Check if it is also waterproof, making sure that it won't malfunction, especially when you need these collars the most.
Take your time to research different brands of dog collars until you find the right one. And don't skip the reviews section! Most people don't always look at product reviews but believe us when we say if you didn't before, then start now.
This way, you don't need to blindly trust what's written on the product's specs. You'll know directly from people who purchased the product whether it's worth your money or not.
Design
The final thing that you need to look at is the design of the LED collar. Most of these collars vary in color, and some offer a variety of extra features depending on the brand.
Ideally, find something that looks good on your pup and has all the necessary features you need for any given situation. For instance, as we mentioned before, some collars come with 360 LED rotating lights. Meanwhile, others offer LED strips that are wrapped around the entire dog collar.
So the choice is yours; make sure to pick wisely!