Cool dog collars are a great way to make a fashion statement while keeping your dog comfortable at safe temperature.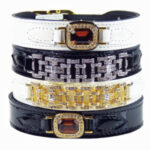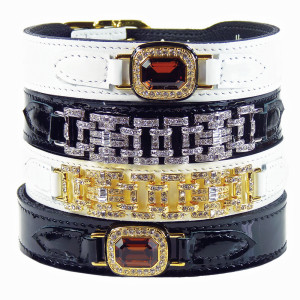 First up are the Hartman & Rose dog collars. They're made of natural Italian full-grain vegetable tanned leather and fine Italian hardware.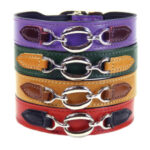 All collars are hand skived and stitched with hand painted and polished edges. Each dog collar is bench made with close attention to detail such as hand polishing and handset semi-precious gemstones and crystals. Their cool dog collars range from the bedazzled Haute Couture Collection to the more preppy Hartman Collection. All Hartman & Rose products are lead free and handcrafted in Canada.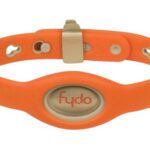 Then for that sporty, water friendly dog in your life, there is the Teafco "Fydo Action" Water Resistant Dog Collar. Ultra durable and flexible to wear, this sport dog collar solves the problem of loose collar straps, and sharp collar buckles. With adjustable dual interlocking buttons that lock when you snap them into keyholes around the collar, the Fydo Action collar fits your dog comfortably. It's made of TPR (100% recyclable thermo plastic rubber) and won't retain bacteria and odors. It's also 100% water resistant and easy to clean. Best of all, these cool dog collars come in lots of other modern colors.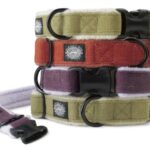 If you're more of an environmentalist or hippie at heart, there is the Planet Dog Cozy Hemp Adjustable Collar. This ultimate, eco-friendly dog collar is naturally dyed pure hemp (comes in a variety of colors too) – one of nature's abundant crops that makes a super-strong fabric. This version has a cozy fleece lining to ensure optimal comfort and has a stainless steel fastener which is smooth and corrosion resistant.