Have you seen the movie co-directed and starred by Channing Tatum dog? In the movie released on February 18th, Briggs, played by Tatum, and Lulu, a Belgian Malinois played by three very talented doggos, drove each other crazy and learned to let their guards down to have a fighting chance of finding happiness.
Channing Tatum Dog Served As The Touchstone Of The Movie
In 2018, Channing Tatum hit the road for one last ride with his dog, Lulu — a pit bull Catahoula mix who was diagnosed with cancer. Lulu was adopted by Tatum at a shelter in Alabama when Lulu was just seven months old.
This last road trip with Lulu was also a turning point for Tatum. The event served as the touchstone for Tatum's movie, Dog.
Lulu has since passed.
Channing Tatum's Love for Dogs
Channing Tatum dog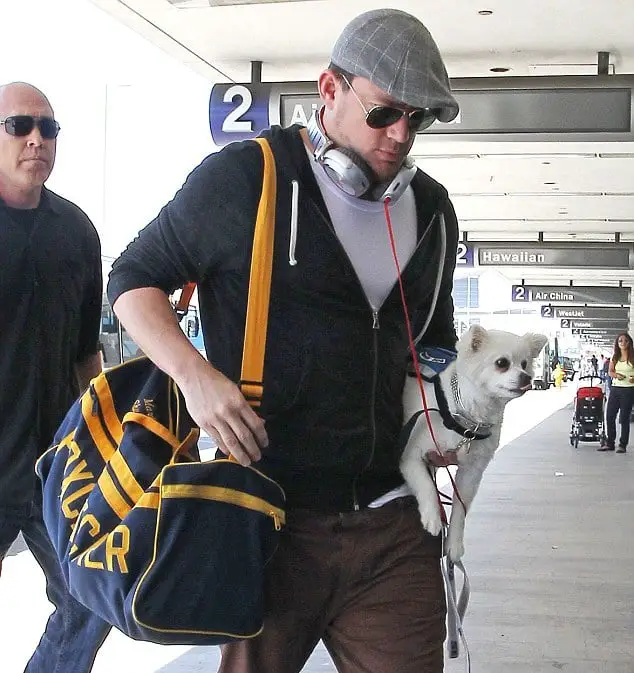 When Channing Tatum was seen at LAX airport with his dog Meeka in 2013, we don't know who's cuter – Channing or Meeka? We just can't seem to forget those Magic Mike moves.
Apparently, Meeka is wearing a blue service dog vest, which means he can sit on his owner's lap on the plane rather than travel in a pet carrier. Nice! We'll have to check into that! In the meanwhile, if your pooch doesn't have a service vest, you can always check out our flying with your dog tips.