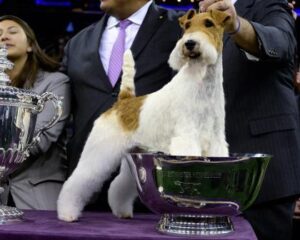 The 2014 Westminster Dog Show was an amazing two days of top dogs and entertainment! Wire Fox Terrier "Sky" (full name is Afterall Painting The Sky) won Best in Show at the 138th annual Westminster Kennel Club Dog Show.
She beat out the other Best of Group winners; a Bloodhound, Welsh Corgi, Portuguese Water Dog, Miniature Pinscher, Irish Water Spaniel and Standard Poodle.  Dogsized was there to cover the show and we think all the dogs, owners, stylists and handlers were all winners!
Photos are worth a 1,000 words, so we took some great photos of the show dogs. Check out our latest photo gallery slideshow. If fact, let us know if you have any great ideas for captions.
[new_royalslider id="2″]
The day shows at Piers 92 and 94 in Manhattan were where most of the judging for Best in Breed were held. We were able to catch some of these judging shows, e.g. Boston Terriers, Standard Poodles, French Bulldogs, Chow Chows and of course, the Havanese.
One of our most favorite things to do at the show is go into the back areas where the dogs prep before going in the ring or hang out after showing. It's amazing to see how some of these dogs get styled – primped and prodded as much as those human models during Fashion Week. There are also so many beautiful breeds from the Japanese Chin to the Irish Wolfhound…many breeds which you really don't see everyday. Most owners and handlers are very friendly and happy to chat and show off their dog.