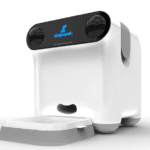 Concerned you won't be able to get home in time to feed your dog?
No worries – with SinglePet, you can just pick up your smartphone and at the press of a button you're able to dispense food to your dog at home. You can even check out what your dog is doing at home and chat with your best friend through a live video stream. SinglePet will also let you know when you're running out of food and you can purchase more dog food right from the SinglePet app. Super cool! (Now if it could only take out your dog for a walk too…)
SinglePet was created by this hot Korean start-up. Check out their video:
This product is not yet for sale in the U.S., but we'll definitely let you know when we see it's been launched.