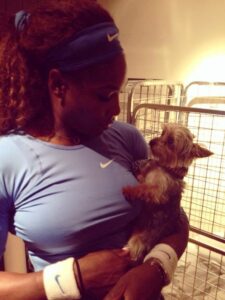 Serena Williams Yorkie Chip definitely seemed to be a big support at the Roger's Cup, which Serena won on Sunday to capture her 54th WTA singles title. She beat Romania's Sorana Cirstea 6-2 6-0 in just over an hour and claim the Rogers Cup for the third time.
Serena tweeted "I had to have a talk with my son Chip after one of my matches…. Look how well he listens." OMG – such a little cutie! Chip is clearly part of the inner circle: @serenawilliams: "Breakfast at Tennis courts. Look at my puppy Chip. He's trying to fit in!" Chip might also be thinking – hey if you don't want to finish that power breakfast, I'm here to help!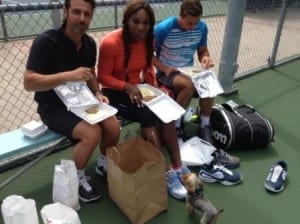 This win has put Serena in fifth place on the all-time list of tournament winners. Only Martina Navratilova, Chris Evert, Steffi Graf and Lindsay Davenport have won more WTA singles titles than Williams.
Chip clearly wasn't that worried about the final match: @serenawilliams: "My son Chip loves Wilson tennis rackets like me! Caught him napping in my bag…"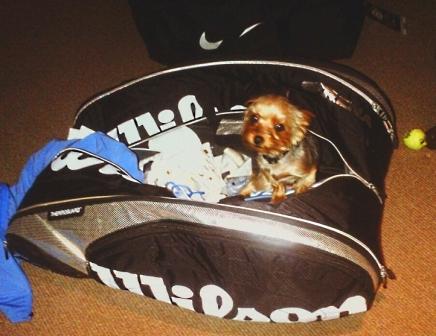 Who needs a dog bag when you can hang in champions tennis bag!
[check out Chip supporting his mama Serena at the Madrid Open]