Record dog activities with a real-time activity monitor so you no longer will you be wondering what your dog's doing while you're away at work
Heyrex is a real-time activity monitor for dogs.  You'll be able to easily monitor your dog's activities from your laptop or smart phone.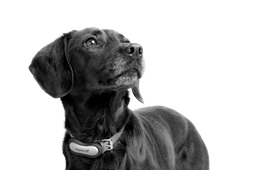 One of the main benefits is that you will have a better ability to track your pet's health and see changes in their behavior that you otherwise might not notice.
Heyrex even sends automatic notifications when behavior changes, improves or indicates a health problem. So you can see trends over time, Heyrex provides weekly and monthly behavior summaries for you (and your vet). It also has a diary function, so you can record notes of key milestones or perhaps dates when medical changes have happened (e.g. new meds).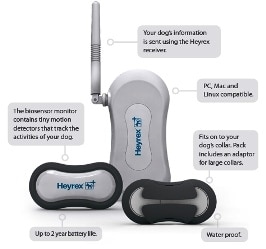 The Heyrex monitor can be fitted on to your dog's regular collar. Once done, it will start to build a profile of your dog's behavior from activity and resting to scratching. Using wireless technology, the Heyrex biosensor transfers data from the collar to the receiver. The biosensor, which is also waterproof, can operate for around 2 years on a single watch battery.
The range of the Heyrex monitority system varies depending on the environment, especially if they are indoors or outdoors. The company states that under ideal conditions, your dog can be 60 meters (approx. 200 feet) from the receiver, but we imagine it would likely be less in real world conditions, i.e. you likely have walls &/or doors that might block the signal.
Heyrex was created in New Zealand. It's similar in nature to other dog monitors such as Tagg and Whistle.