If you're planning to hire a dog sitter or become one, there are some important things you need to know to ensure your pet gets the best care possible.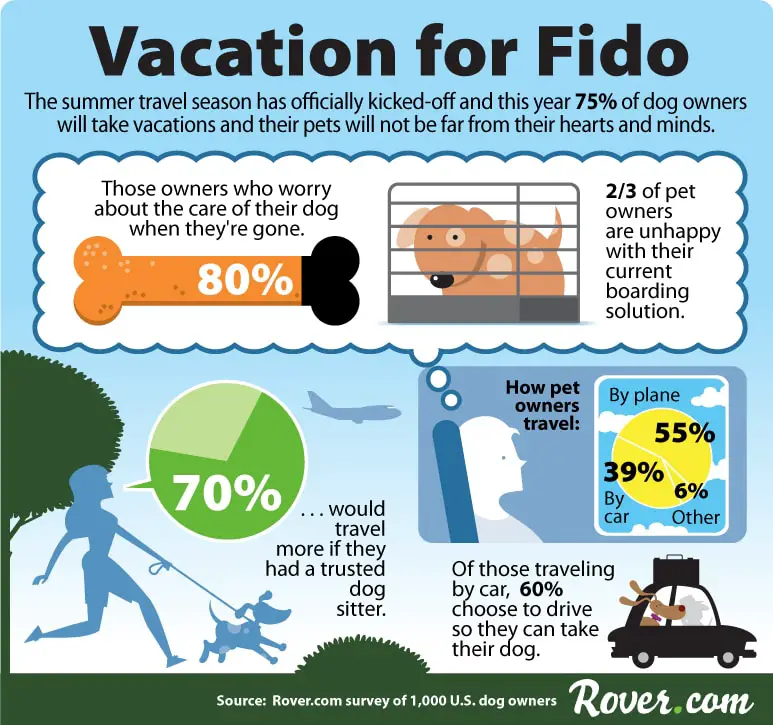 Going away on vacation and can't find a friend or family member to dog sit? Well, worry no more.
Like Airbnb and Uber, there are a number of peer-to-peer platforms for dog sitting services that have popped up.
A while back, we featured DogVacay. There are two others we recently came across and wanted to highlight for you: Rover and DogBnB.
Like DogVacay, they also offer a nationwide network of dog lovers that will take care of your dog from boarding to walking.
Rover Dog Sitting
Rover has both a web portal and an app which allows you to easily find a sitter near you, book services, and receive photo updates from your sitter.
In addition to connecting pet parents with sitters, the Rover platform offers complimentary premium insurance for all services booked through Rover, 24/7 customer support, vet consultation, and sitter background checks.
To use the service, dog owners browse the "search" section of the site or app for potential pet sitters, which can be organized by zip code and available dates.
The sitter's overnight rates are displayed in search results and prominently on the sitter's profile page.
In-depth profiles of pet sitters are provided, complete with multiple reviews, availability, specific services, and rates.
Currently, Rover has over 25,000 approved sitters in more than 5,000 U.S. cities. Rover states that 95% of reviewed stays have received a perfect five-star rating.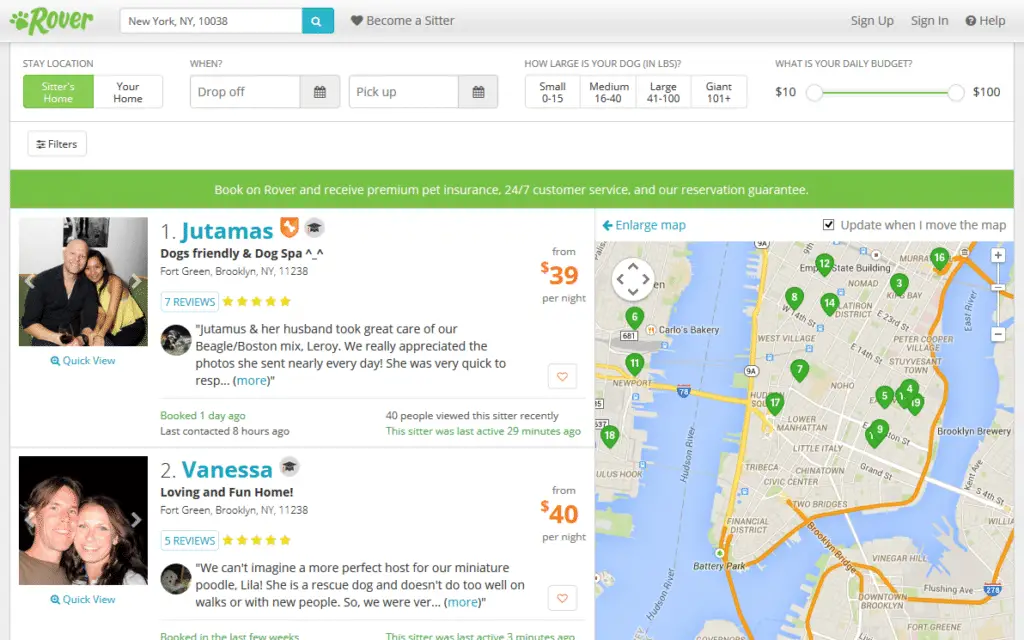 After selecting a sitter that fits your criteria, just direct message a pet sitter on their profile to schedule a meet and greet, and confirm services and payment.
Rover calculates the stay price based on a nightly rate, like a hotel, but if you're picking up your dog late, your sitter might want to charge a day care fee.
Rover pet sitters are encouraged to send text and picture updates throughout the day, and if there's a medical emergency, the site guarantees 24/7 access to a vet.
Don't worry about a sitter canceling — you're guaranteed a replacement if someone falls through.
Rover offers a large variety of services, but the four main types of services are:
• Overnight care at the sitter's home
• Overnight care at your home
• Dog walking. Although walks are usually included in the nightly rate, you can often book dog walking as a separate service.
Rover also has "badges" which might better help you to select a sitter. We think the most important badges are the Background Check, Training and Rover Pack badges.
The Background Check badge shows that the sitter has completed a voluntary background check. Rover offers them as a way to assure you of the sitter's credibility and reliability.
The Training badge means that the sitter has taken and passed the Rover Sitter Success Training quiz—and has demonstrated the skills and knowledge it takes to give your dog the excellent care you expect and deserve.
Rover Pack badge is a mark of the sitter's expertise, experience, and attention to customer service. This badge ensures the sitter:
• Has completed at least 10 stays.
• Maintains an average rating (by pet owners) of at least 4.5 stars.
• Keeps their availability calendar up to date.
• Responds to at least 90% of requests within 24 hours.
Doggybnb Dog Sitting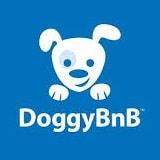 Doggybnb works differently than Rover and Dogvacay. Instead of searching a database of various potential sitters, Doggybnb requires you to invite people from your social network that might be potential sitters.
They call this your "Woof Pack". In fact, they've created their own terminology to describe their services, so if you don't remember the difference between a "Fetch" or a "Woof" they've put together a glossary.
DoggyBnB offers a range of services including Feed, Walk, Watch, Board, and House Sit.
Rather than searching for a sitter when you need one, instead you'll send out a request to your social network that you're looking for a sitter, including the date, time and how much you're offering to pay for the service.
They call this request "posting a Woof". The request gets pushed out to your friends in the social network, including friends of friends.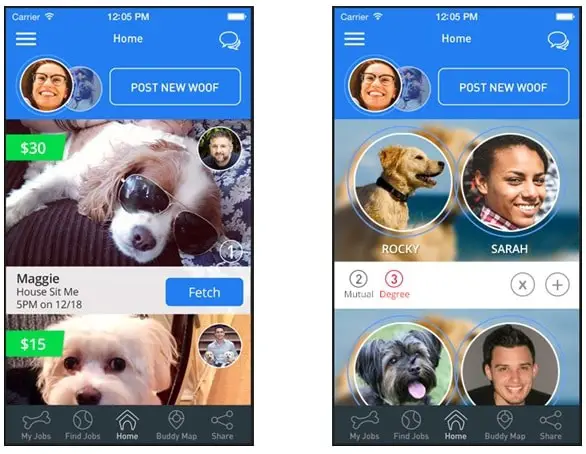 Interested sitters respond (i.e. "Fetch") your request (i.e. "Woof"). Anyone that responds is either a friend or people you are socially connected to (i.e. friends of friends).
You can review profiles, how you are connected and ratings to help you choose a trustworthy sitter.
Once the care is completed, the app will conveniently send the sitter payment.
We like the idea that you're using a network of friends and saving time by not having to individually contact people (i.e. just request once and it goes out to the "Woof Pack").
On the flipside, if no one responds to your request (i.e. maybe you don't have a very large "Woof Pack") you'll still need to go out and search for a sitter.
DoggyBnB also has another feature to set up doggy playdates. "Sniffer" is a feature that allows dog parents to see an owner/dog pair in their proximity to set up playdates, make new friends and/or even find someone you might like (similar to Tinder).
You can filter based on gender, age, doggy weight range and location. You can swipe right if you are interested in meeting the owner/dog pair, or left if you are not. If you both approve each other, you'll get a notification that a match has been made.
For full disclosure, we haven't used Rover or Doggybnb ourselves, but they look like great service options. Have you used Dogvacay, Rover or Doggybnb? Let us know! We'd love to get your feedback!