There's a tech innovation for dog doors for all those lucky dogs with backyards, balconies, and terraces. Automatic dog doors are an innovative solution to providing freedom and independence to your furry best friend while keeping your home secure.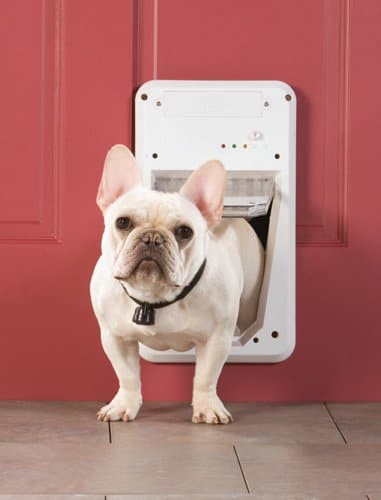 Normal dog doors let your pet in and out of the house and give access to other pets to come in and out of your home. This clearly opens some security issues.
Now you can get an electronic dog door, which only opens for your dog and automatically locks once he passes through the dog door.
How Do Automatic Dog Doors Work?
The PetSafe dog door "SmartKey" attaches on your dog's collar and has a range that is adjustable up to 3 feet. The SmartDoor reads a unique signal from the SmartKey on your dog's collar and triggers the flap to unlock.
After your dog passes through, the dog door will relock again automatically. When the SmartDoor no longer senses your dog's SmartKey, the flap automatically locks back into place. Animals without the SmartKey are not able to enter.
You may have a total of 5 SmartKeys in use at one time. In addition to the automatic mode, you can also manually set the dog door to "locked" or "unlocked."
The pet door itself has a Plexiglas flap, and is tapered to create a tighter, energy efficient seal.  The two layer polycarbonate door is weather resistant and prevents discoloration from the elements. It's also offered in two sizes: small and large.