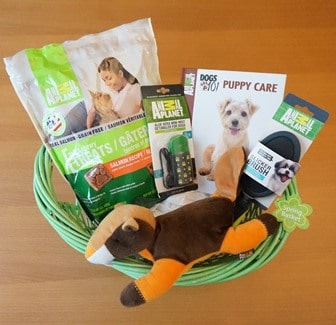 We love the folks over at Animal Planet – excellent programming (esp. the Puppy Bowl) and great products. They've been so generous to give us a Spring Basket to giveaway to one of our lucky Dogsized fans!
Here's what's in this incredible basket: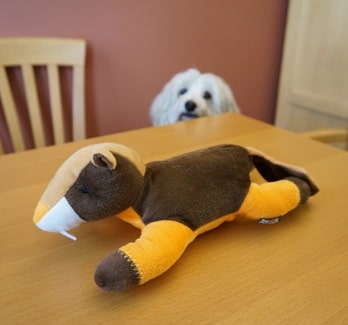 Animal Planet Beaver Plush Squeeky Toy – wondering how cute and desirable this is? Well you can already see my dog Kobi trying to get at this cute plush toy – stretching and giving me that "I'm so cute look". Fortunately for the winner, I'll make sure Kobi doesn't get to this, despite his efforts.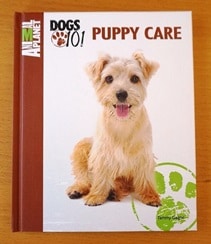 Animal Planet Dogs 101 Puppy Care Book – Beautiful, informative puppy care book with loads of color photos. Dogs 101 Puppy Care explains everything you need to know about choosing, raising, and caring for a puppy, including information about supplies, nutrition, grooming, training, health care, and more. Keep for yourself or give to a friend that has a new puppy.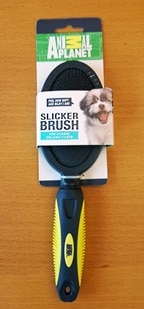 Animal Planet Slicker Brush – Comfortable grip handle and fine bristles. The slicker brush is a pet grooming tool which is designed to keep your dog's coat mat and tangle free. The Animal Planet Slicker Brush is a new product and not yet available in stores.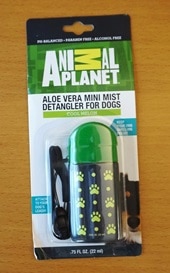 Animal Planet Aloe Vera Mini Mist Detangler for Dogs – With aloe vera ingredients, this detangler helps to revitalize, detangle and add shine to your dog's coat. When you're on the go you can attach this to your leash.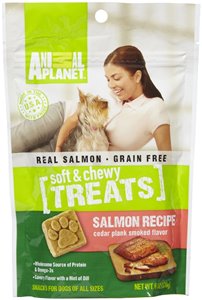 Animal Planet Soft & Chewy Treats, Salmon Recipe – Made with 100% real salmon and made in the USA. On the ingredients label, salmon is the first ingredient listed. Feed as a snack or reward when playing or training your dog.
And of course, the Animal Planet Spring Basket Giveaway comes with this green spring basket.
Congratulations to Val Lorton and her dog from California who was our randomly chosen winner!