People are starting to get riled up for the Super Bowl – but for you dog lovers, it also means it's time for the tenth annual Puppy Bowl!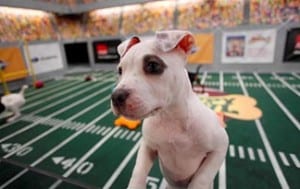 This is one of the cutest things you'll ever see on TV, and it's on right before the Super Bowl.
Never seen the Puppy Bowl before? Well, let us give you the scoop:
The most adorable puppies play football against each other just like the humans do – only it's much cuter, funnier, and very uncoordinated.
Are there cheerleaders? Yes!
Hedgehogs are on the sidelines with pom-poms to cheer on their teams.
Is there a halftime show? You bet! There's a Kitty Half-Time Show – the puppies leave the field and a large scratching post is brought out with a wide variety of kittens. The show features kittens playing with lights, laser pens, balls of yarn, a scratching post and various other colorful toys .
Sideline reporter "Meep the Bird" tweets lives updates throughout the game.
There's even a blimp driven by hamster pilots!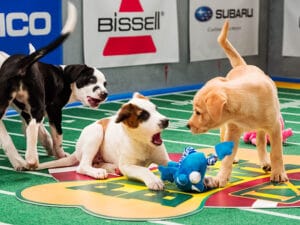 Puppy Bowl is filmed inside a miniature "stadium" that is 19 feet long by 10 feet wide.
There is a height and weight limit for the puppies due to the size limitations of the play area.
Some cameras are placed inside toys and water bowls to give a puppy's-eye view of the action. All the puppies come from shelters.
You can check out this year line up on Animal Discovery
The Puppy Bowl does have different rules than the Super Bowl in that the puppies are given a wide variety of chew toys and bones to play with, and they are free to tackle, bite and do as they wish.
Okay, I guess human football players do a lot of that too. Missed a play? They have loads of replays and a "cute cam," so you don't miss an adorable second!