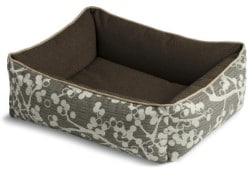 We first discovered Crypton Dog Beds as a tip from one of our Dogsized fans that purchased one. We loved how very stylish and modern their beds are. Best of all, they are built-to-last and unbelievably resistant to troublesome stains, moisture, odor and bacteria. We wanted to learn more about Crypton, so we reached out to them to get the scoop:
Tell us about the owners of Crypton: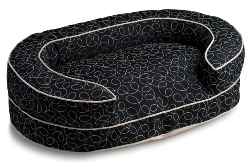 Randy Rubin and her husband Craig, are the owners of Crypton and together, they researched and developed the brand from the basement of their Michigan home. They wanted to create fabric that could stand up to life's messes and still be touchable and beautiful. Today, Crypton is 21 years old and they have an extensive product line ranging from upholstery products for your home or business to carpet, wall coverings, pet products and cleaning products.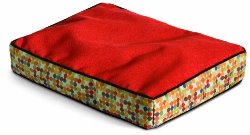 Molly B. Rubin, their dog, is a vital part of Randy and Craig's personal life and is also the business mascot. Molly comes to the office every day and goes to each person to say "hello". The whole company has got in on the fun – one person brings in dog treats, another hides toys for her, of course many provide hugs and kisses. Molly is a really calm and obedient little dog-person. She's not wild about other dogs, except her boyfriend Max Katz (who is a larger dog). Molly actually tests out all the dog beds – believe it or not there are some she rejects—and Crypton takes a rejection from her very seriously.
What's behind the inspiration of Crypton dog bed designs?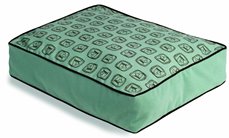 We come up with the designs from the residential furniture world. People don't want their pet beds to stick out like a sore thumb – we believe Crypton dog beds can serve as beautiful accent pieces and should be of the same quality used in furniture. Our beds are designed to fit into many places, always look good and not be a throw away item. The respect for high design is clearly shown in our work with William Wegman over the past 8 years.
How are the beds made? Are they made in the U.S.?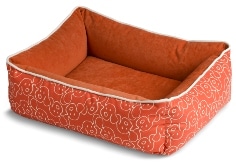 The beds are made in North Carolina. They are made to last so we use heavy duty thread, zippers and other components. Whenever the supply is available, our fillers are made from recycled pop bottles. We don't always have the ability to get this, but we really prefer it when we can. All fabrics are made via a process that holds the highest Green Guard Certification which is Gold.
Crypton uses first quality upholstery material that is made for heavy duty usage. The beds are made with Crypton Super Fabric so they are very easy to clean and disinfect. Covers can be removed for washing.
"Molly loves her bed that she has had for over 8 years—it is like her blanky and if we threw it out and gave her something new she would be very sad," said Randy, founder of Crypton.
What are your most popular products? Why?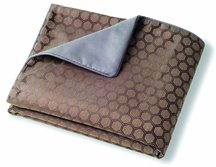 Our most popular pet products are the "Throvers" because they are beautiful accent pieces and they can cover furnishings that are not made of Crypton.
Customers use them in cars and anywhere else your dog would want to sit on something that is waterproof yet comfortable. Clearly, they also give dog owners some peace of mind.