As we're always on the search for a great dog carrier and dog bag we were thrilled to discover the SturdiBag Flex-Height Carrier! The first thing you notice is how light the dog carrier is.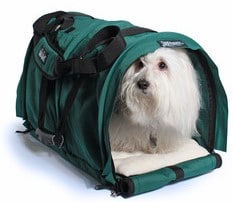 The SturdiBag large only weighs 2.6 pounds, despite that it has been tested to safely carry a pet up to 40 pounds and has the dimensions: 18 L x 12 H x 12 W inches. It's by far the lightest bag we've seen on the market!
One of the key advantages of the SturdiBag is the patented flex-height design with flexible rods that allow the carrier to flex down without collapsing to conform to under-seat heights.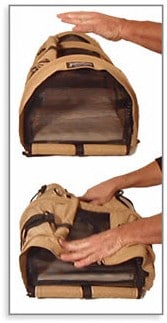 Then the bag pops back into shape when it is no longer stored under the airline seat. Many dog carriers do not have this extra support and as a result, the bag does not hold its shape and the top can collapse down on your dog.
The SturdiBag is made of durable 600 denier polyester with urethane coating, which makes it very durable and water-resistant.
It comes in a variety of colors and is available in 5 sizes for the standard model (non-divided) and 2 sizes for the divided models. It also has pockets so you can put your dog's leash or treats in it.
There is one back storage pocket on the 5 standard models and deep side pockets on the 2 divided models. The SturdiBag is also easy to clean and completely machine washable.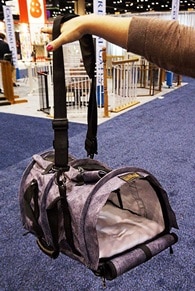 The SturdiBag includes:
Adjustable 4-point padded shoulder strap & leather hand grip
Retractable privacy flaps on all mesh windows
Seatbelt safety straps for car travel
Interior Comfort Pad secured by Velcro
Zipper Security Clips and a tether for safety and security
The SturdiBag Flex-Height Pet Carrier comes with a Comfort Pad which is covered with soft fleece. This lightweight Comfort Pad is filled with a cushy, convoluted or "egg-crate" style foam that provides air circulation and superior weight distribution for support, comfort and pressure relief.
The Comfort Pad may be beneficial for aging pets and/or pets with arthritic or other orthopedic problems. If your dog really likes the Comfort Pad in the SturdiBag, you can purchase additional ones to use around the house.
There are various Comfort Pad cover designs and colors so you can find one that suits your home.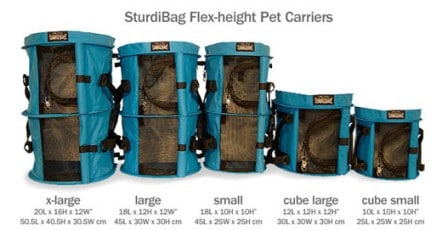 The company Sturdi Products really stands behind its products. All SturdiBag pet carriers and other products are warranted against manufacturer defects for the life of the product.
They will also replace parts as needed or handle special requests such as installing customized/heavy mesh. Sturdi Products has been catering to the needs of professional dog handlers and groomers since 1993. So they really have a "high touch" when it comes to customer service.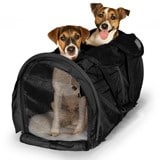 Sturdi Products was founded on the principle of decreasing the stress of both pets and people by designing better products for use when traveling with pets. Sturdi now offers over 40 professional quality & innovative products.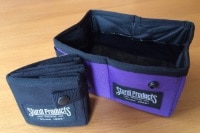 They also make the SturdiBox which is great for both on the road and at home. Built out of high-quality, durable materials, the SturdiBox waterproof and built to last. Folds flat and snaps closed for packing!
You can see in the photo here are two small SturdiBoxes (they come in different sizes). The one in purple filled with water and the other folded in black.