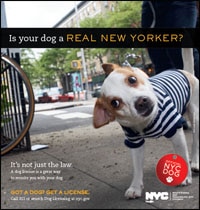 I was just renewing Kobi's NY Dog License. I got a reminder in the mail, but now you can go online and renew (or get a new one) really easy at: https://a816-healthpsi.nyc.gov/DogLicense/Login.do
Not all dog owners realize New York State law requires that all owned dogs have a NY dog license and the NYC Health Code §161.04 requires every dog owner to have a dog license tag attached to their dog's collar while in public. Dog owners can be fined for violation of these laws.
For more information, check out NYC Dog Licensing or if you live in one of the five boroughs of New York City, call 311 to have an NYC dog license application mailed to you or download it from this web site.