I just renewed Kobi's NY dog license. I got a reminder in the mail, but now you can go online and renew (or get a new one) easily. Below is an overview of some FAQs with links to get a NY dog license.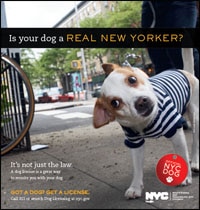 NY Dog License FAQs
If you're a dog owner in New York, it's essential to know that you are required by law to obtain a dog license.
What is a dog license?
A dog license is essentially a permit that allows your dog to reside within the city legally and provides identification information in case they get lost.
How often do you renew the NY dog license?
The license must be renewed annually and requires proof of vaccination against rabies.
Where do you get the dog license?
Dog owners can obtain a dog license online through the city's official website or through their local municipal clerk's office.
What if I don't get a dog license?
It's worth noting that there are fines for failing to obtain a license for your dog, so follow the necessary steps to ensure that your pet is properly licensed and recognized as a valued member of your community.
NY Dog License Round Up
Not all dog owners realize New York State law requires that all owned dogs have a NY dog license.
The NYC Health Code §161.04 requires every dog owner to have a dog license tag attached to their collar while in public. Dog owners can be fined for violation of these laws.
For more information, check out NYC Dog Licensing or if you live in one of the five boroughs of New York City, call 311 to have an NYC dog license application mailed to you or download it from this website.