As the days are getting shorter, we thought it was a good time to update our LED Dog Collar recommendations. The LED Dog Collar is a must have for any dog owner that takes their dog out at night. Not only can you better see your dog, but so can others! Wearing a dog collar light can be a great safety device and life saver.
Based on our tests, these are the Top 2 LED Dog Collars on the market that we think you'll love. We tried to get better pictures of our own dogs with the LED Dog Collars on, but it was a challenge with it being dark outside and the dogs' non-compliance in staying still.
Orvis Safety Light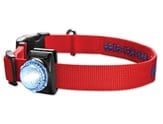 The Orvis Safety Light is waterproof, impact resistant, and visible up to 3 miles away. Best of all, the Orvis LED safety light fastens anywhere on your dog's collar via a clip or hook-and-loop strap (both included). It's like a mini flashlight on your dog's collar. We'll not only use this on dog walks at night, but also when we have power outages (like during Hurricane Sandy). We might even take it on a late night run.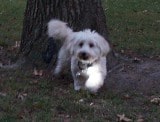 The light is easily turned on by simply rotating the lens. It has both steady and flash modes. To switch from steady light to flash, just flip the battery to change the function. Allegedly, this is the light that Danish search-and-rescue teams rely on to keep their dogs visible in dark and dangerous conditions.
The light comes in clear (white), red and amber colors. It is a 100,000-hour bulb with a 250-hour battery life and weighs less than 1 oz. Being small and compact, it's great for travel, especially since you can easily take it on and off.
Glowdoggie LED Dog Collar
We were impressed how bright the Glowdoggie Classic is! It's the brightest all-around dog collar we've seen on the market and it's not annoyingly bright either. Glowdoggie also makes an Ultra version which is about 50% brighter and can also run on rechargeable AAAs if desired.
The Glowdoggie (aka Leuchtie) is made and engineered in Germany. You can immediately tell it is made of robust, durable, quality components. It's also 100% waterproof (your dog can go swimming in it) and comes with a 2 year warranty. The Glowdoggie has been tested in all types of extreme climates, from the Arctic Circle to the Western Australian Desert, and it's used by many SAR teams around the U.S..
The Glowdoggie is unique in that it's not actually a collar. It's a flexible ring that you slip over your dog's head and as such you need to order it in a specific size for it to fit your dog, i.e. there's no way to adjust the size of the ring. There is no need to open the ring, except for changing the AAA batteries. The Glowdoggie should be used in addition to your dog's normal collar. A nylon strap is included if you prefer to attach the Glowdoggie to your dog's collar.
Fiesta has been using the Glowdoggie for over a year and loves it (so does her "daddy", Luis).

There is no on/off switch on the Glowdoggie, instead, it's turned on when the battery portion is facing down (as it is in the photo on the right) and gradually turns off when it is in the up position. Luckily there are plenty of instructional and product demonstration videos on the Glowdoggie website. The battery life is 100 hours. The Glowdoggie Classic + comes in six different colors (green, blue, aqua, red, white and pink).