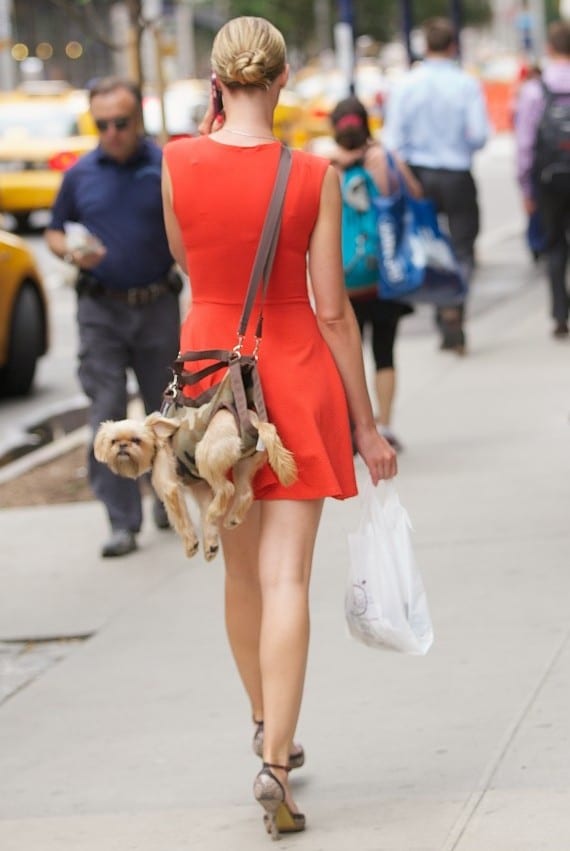 Is the puppy purse really all the rage??? Recently highlighted in the New York Post, they claim this purse is hotter than a Birkin bag. Oh no, don't say it's so! This looks seriously uncomfortable for a dog, not to mention – dogs should be walking!
Here we see Rachelle Garzia, a brand-strategy manager at the Gansevoort Hotel Group, with her 1-year-old Brussels Griffon Shih Tzu mix, Frank, slung over her shoulder in one of the stylish bags on East 30th Street and Park Avenue yesterday.
Allegedly, the puppy purse is so popular the Upper West Side Petco store said that they're sold out.
The puppy purse is a harness that looks like a purse, with a casing to cover the dog's chest and allow its legs to dangle in between the straps. Luckily it's not as expensive as a Birkin (they cost approx. $70-100).
UPDATE!
This morning when I got in my elevator at my apartment, I met Frank and Rachelle. What a total coincidence!!! Frank appeared all happy in his puppy purse. They said Frank loves it. Unfortunately I wasn't fast enough to snap a photo (and I didn't want to be rude in the morning rush to work). Maybe I'll get another chance sometime and share it with you all.