Description
SturdiBag Lightweight Pet Bag
What makes the SturdiBag exceptional and why do so many professional trainers and breeders prefer this carrier? "It's a flexible height carrier." The patented design allows the top to "flex" without collapsing, allowing the SturdiBag to conform to the under seat height of all airline seats.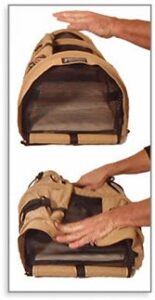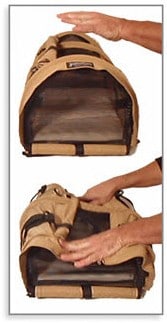 "SturdiBag is feather-light yet extremely resilient." Uniquely constructed with top quality and durable materials, SturdiBag is the lightest weight professional grade carrier on the market.
Whether transporting by the leather hand grip or using the shoulder strap, the ability to maneuver through an airport, onto a plane, down the stairs or simply to the car, a lightweight pet bag will make your task easier. Many airline carriers around the world have weight limitation for pets including the carrier, making SturdiBag an excellent choice for ease of transport and airline compliance.
When choosing a carrier, pet personality and behavior is as important as weight and length. Some pets can curl up, relax and sleep through a flight, while some four legged friends will make it a far too memorable flight! SturdiBag is quick and easy to assemble making your life easier. Retractable privacy flaps on mesh windows and doors will make your pet at ease. The feather light yet durable SturdiBag has adjustable 4-point padded shoulder strap and leather hand grip.
It includes the SturdiPet Comfort Pad, which is covered with soft fleece. This cushy, convoluted or "egg-crate" style foam pad provides air circulation and superior weight distribution for support, comfort and pressure relief. The soft pad is extremely beneficial for aging pets and/or pets with arthritic or other orthopedic problems.
This truly is an amazing carrier featuring seatbelt safety loops for car trips and tie down loops on base corners. Zipper back window for easy access.
This lightweight pet carrier comes in a variety of colors, designs and sizes. It is washable, hand or machine, in cold water using soap or non-bleach detergent. Manufacturer offers a limited lifetime warranty.
For more dog bags and carriers, check out the Dogsized Dog Bags and Carriers category.