Description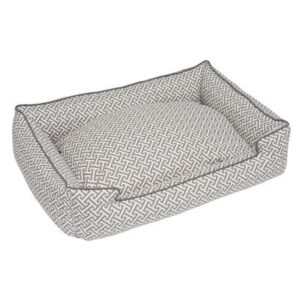 Jax and Bones Lounge Dog Bed – Everyday Cotton – Hera Grey
Made from light to medium weight fabrics, Jax and Bones Lounge Dog Bed is perfect for anytime of the year. Soft and easy to maintain, you will find fun, vibrant and colorful choices. Machine washable, low heat tumble Recommended.
Pattern: Hear Grey.
Material: Light weight cotton fabric. Sustainafill allergy-free eco-friendly fiber filling.
-Removable and machine washable cover.
-Perfect for everyday use.
-Proudly made in the USA.
Dimensions:
-Small: 7" H x 18" W x 24" L, 6 lbs.
-Medium: 10" H x 27" W x 32" L, 10 lbs.
-Medium / Large: 10" H x 32" W x 39" L, 14 lbs.
-Large: 12" H x 40" W x 48" L, 18 lbs.