Description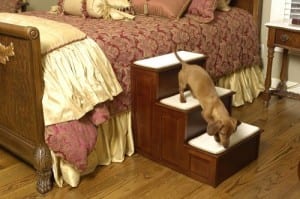 These decorative dog steps answers the need for your dog's access to sofas, chairs and beds with equal parts fashion and function.
It allows your dog to come and go at will; no lifting and less stress on everyone's joints!
The elegant solid wood design in a warm cherry finish of these dog steps is much more home-decor friendly than those plastic stairs on the market. The neutral-colored dense pile carpet provides secure footing and quiet passage. It's also washable with standard carpet cleaners. The padded bases protect carpets and hardwood floors, while holding the dog steps in place.
Features:
3-step unit helps smaller breeds or older pets access a sofa or chair
Made of solid pine with a warm cherry stain and polyurethane finish
Dense pile carpeting reduces noise and keeps pets from slipping
Protective pads prevent non-carpeted floors from getting scratched
Measures 16 by 17 by 14 inches
Created by Mr. Herzher's / Solvit